Mergania
Jump to navigation
Jump to search
Merganian Confederation


Konföderation Merganien (Mergan)


Capital: Freistat
Population: 27 250 000 (2013)
Motto: Freedom, Justice and Fraternalism

---
Mergania, officially the Merganian Confederation, is a federal sovereign state in Eastern Uletha and an active member of the Eastern Ulethan Organisation of Independent Allies and Assembly of Nations. In the 21st century, Mergania is a great power and has one of the world's largest economies in the sector of high technology. As a global leader in several industrial and technological sectors, it plays an important role in export and import of goods. Mergania is a highly developed country with a very high standard of living sustained by a skilled and productive society. It upholds a social security and universal health care system, environmental protection and a tuition-free university education.
Etymology
The name of Mergania derives from the Romantian expression "mergari", which means "to trade". The ending "-nia" was established later on and stems from Ingerish. The name came up after Kalmish settlements have been established in Eastern Uletha in the 14th century.
History
History of Mergania
x
18xx
• x
18xx
• x
18xx
• x
18xx
• x
18xx
x
18xx-18xx
• x
18xx
• x
18xx
• x
18xx
• x
18xx
Modernity
18xx
• x
18xx-18xx
• x
18xx
• x
18xx
• x
18xx

Discoveries shows that ancient humans were present in Mergania at least 350 000 years ago. One of the oldest complete hunting weapon found anywhere in the world was discovered in northern Holswig. This is the settlement of most Reisjian Tribes.
Rise and fall of Reisja (802-1047)
The first king established the Reisja Kingdom, with the Royal King Lotharan Geyer ruling the Reisjian Kingdom. He established trade with many nations, being on a trade route from inland Northern Uletha to Orano and Commonia. He also planned cites and villages to be built for the population who were living in poor housing conditions. This, in turn, caused the citizens to pay higher taxes. Neumann Geyer then became the second king in 834 AD. The citizens pleaded the king to reduce the high taxes, but to no avail. Evil was on the rise under his rule, as he did not make much effort to keep law and order. He was not popular, and in most history books he was mentioned only very briefly.
In 865, King Neumann died, Wagner Neumann, his eldest son took over. He was very fearful that he will be murdered, so he built a wall around his palace, and employed a thousand spies to guard his palace. He even give orders to kill his brothers for some trumped up charges. The people thought he was crazy, and they barged into the palace. He was then pulled off his throne, but luckily he was not murdered.
Wabish Rule(1047-1434)
In 1047, a revolution against the Reisjan Royal Court happened, and thus they were driven out of the country. King Wabia Schermann took over as the next King of the Wabish Kingdom.
Separation of Mergania (1434-1822)
North Mergania
South Mergania
Reunifiction
Industralisation of Mergania and support to other countries
Mergania rapidly developed after it open its doors in 1834.
New frontiers
Confederate States
Geography
Geography of Mergania
Continent
Uletha (Eastern)
Region
Central Islands
Population
27 250 000 (2013)
Area
• Total
122 758 km2
0 sq mi
• Water (%)
62.7%
Population density
0 km2
0 sq mi
Major Islands
x,
x,
x,
x
Major rivers
x,
x,
x,
x
Time zone
WUT+8:00 (EUT)
Mergania is the southernmost of a number of countries that form the Scythe of Uletha in Eastern Uletha, with Viljanni and Eshein bordering to the south, x, x and x to the east and Helvetiany, and Älgert to the north. It is also bordered by the Darcodian Sea and the Gulf of Volta. It lies mostly between latitudes 43.5° and 48.5° N and longitudes 129° and 133° E. Mergania has five oversea territories on three continents, each named after the largest town:
Time zones
The Mergan main islands are all located in the time zone WUT+8:00. All exclaves are located more west or east, which lead to different time zones for WUT+2:00 in Uthira Stadt to WUT+11:00 in Ludenitz.
Exclusive economic zone
The exclusive economic zone of Mergania (Template:MER-coordinates) is the 200 nautical miles sea zone (measured from the coast line) prescribed by the 19?? AN Convention on the Law of the Sea over which each state has special rights regarding the exploration and use of marine resources, including energy production from water and wind.
Climate
The island is dominated by an oceanic climate with quite narrow temperature differences between seasons. Thus the temperature varies with the seasons seldom dropping below −10°C or rising above 30°C. The prevailing wind is from the east and bears frequent spells of mild and wet weather from the Asperic Ocean, although the western parts are mostly sheltered from this wind since the majority of the rain falls over the eastern regions the western parts are therefore the driest. Rainfall occurs year-round, with no consistent dry season. The winters often are mild, especially at the western coasts. Summers are warmest in the west of Mergania, being closest to the Darcodian Sea. Heavy snowfall are seldom in winter due to the lack of high ground.
Mergania Weather Averages

Month
Jan
Feb
Mar
Apr
May
Jun
Jul
Aug
Sep
Oct
Nov
Dec
Year
Average maximum temperature
°C
7.5
9.1
10.1
13.4
17.8
20.1
24.8
22.6
19.5
15.6
10.2
8.1
14.9
Average minimum temperature
°C
2.5
2.4
3.7
4.2
7.5
11.8
13.8
13.7
11.6
8.2
4.1
2.3
7.2
Sunshine
hours
74.2
79.3
122.1
178.5
199.3
195.7
212.1
203.5
155.2
122.5
78.2
69.2
1689.8
Rainfall
mm
62.2
55.4
61.4
59.9
57.3
55.0
57.1
56.2
61.7
71.2
78.9
72,3
748.6
Rainfall ≥ 1 mm
days
9.4
9.2
10.1
10.2
9.4
9.3
9.1
8.6
8.9
10.0
12.1
11.3
117.6
Source:[1]
Urbanization
Freistat
Brugham
Gausbrug
Politics
Parliament
Government
Government of Mergania
Federal parliamentary republic
Capital
Freistat
Head of state
• President
Joachim Selm
• President of the Confederate Chamber
Helena Gotauer
• Chancellor
Gabriel Dietauer
Legislature
2020-2025
• Upper house
Confederate Chamber (Konföderiertenkammer)

• Lower house
Confederate Convention (Konföderiertenversammlung)

Judiciary
x
x
x
x
x

Major political parties

AN, EUOIA
Green Alliance (Grünes Bündnis, GB)
National Conservatives (National Konservative Partei, NKP)
Social Union Merganiens (Soziale Union, SUM)
Free Liberal Party (Freiheitlich Liberale Partei, FLP)
Left Socialist Alliance (Links Sozialistisches Bündnis, LSB)
Administration
Ministry of Building, Infrastructure and Energy
The Ministry of Defence is a confederate agency with main responsibility for the Confederate Defence and located in Freistat.
Ministry of Economic Affairs
map coming soon... National Center of Innovation
Ministry Economic Cooperation and Development
coming soon...
Ministry of Education and Research
coming soon...
Ministry for the Environment and Nature Conservation
map coming soon...
Ministry for Family Affairs, Senior Citizens, Women and Youth
coming soon...
coming soon...
Ministry of Food and Agriculture
coming soon...
Ministry of Foreign Affairs
coming soon...
coming soon...
coming soon... Confederate Statistical Office Mergania
Ministry of Justice and Consumer Protection
coming soon...
Ministry of Labour and Social Affairs
map coming soon...
Law
The civil law system of Mergania is based on Ancient Ulethan law. The Mergan penal system seeks the protection of the public and the rehabilitation of the criminal. Mergania has a very low murder rate with 0.7 murders per 100000 in 2017.
Foreign relations
Mergania has many diplomatic missions abroad and maintains relations with even more countries, for details see Foreign relations of Mergania.
Administrative divisions
Administrative divisions of Mergania
First-level
8 Federal states
1 Free city-state
5 External territories
Second-level
f and f
Third-level
s, g
Fourth-level
s, g
The Merganian Confederation comprises nine federal states (Brugham-Übersee, Frießen, Habsach, Holswig, Mähringen, Rüthingen, Schersen, Stefalen, Vocklenbrug) and five oversea territories (...). Each state has its own state constitution and is largely autonomous in regard to its internal organisation. Because of differences in size and population the subdivisions of these states vary.
Brugham-Übersee
Brugham-Übersee is a state of Mergania located in north-east, north of Mähringen and east of Rüthingen.
Frießen
Frießen is a state of Mergania located in center, north of Vocklenbrug and south of Mähringen.
Habsach
Habsach is a state of Mergania located in the south, south Stefalen and Vocklenbrug. The state is bordering to the south with Eshein.
Holswig
Holswig is a state of Mergania located in the north-west, west of Schersen.
Mähringen
Mähringen is a state of Mergania located in the middle, south of Schersen and Rüthingen and north of Frießen and Vocklenbrug.
Rüthingen
Rüthingen is a state of Mergania located in the north east, north of Mähringen and east of Schersen.
Schersen
Schersen is a state of Mergania located in the north, north of Mähringen and between Rüthingen and Holswig.
Stefalen
Stefalen is a state of Mergania located in the south-east of the main island, north of Habsach and east of Vocklenbrug.
Vocklenbrug
Vocklenbrug is a state of Mergania located in the south-west of the main island, north of Habsach, west of Stefalen and south of Mähringen and Frießen.
Armed Forces
The Confederate Defence is the unified armed forces of Mergania and member of the EUDA.
National safety and security
Intelligence service
Mergan Secreto Intelligencia (MSI)
Police
coming soon...
Economy
Economy of Mergania
Social-market economy
Currency
Thaler
Monetary authority
Merganische Zentralbank
GDP (PPP)
2020 estimate
• Total
$1524 billion
• Per capita
$55433
GDP (nominal)
0
• Total
0
• Per capita
0
HDI (2020)
0.922


very high

Principal exports
Technical equipment, vehicles, chemicals, x, x
Principal imports
Agricultural products, x, x, x

Industries and sectors

| | | |
| --- | --- | --- |
| Heavy industry | | 49% |
| Services | | 31% |
| Financials | | 15% |
| Other | | 5% |

Exports

Main export partners
$422 billion (2022)

Belphenia
Federal States
Kojo
Izaland
Imports

Main import partners
$401 billion (2022)

Kojo
Federal States
Gobrassanya
Latina
See also: Economy of Mergania
Mergania has a social market economy with a highly skilled labour force, a large capital stock, a low level of corruption and a comperatively high level of innovation. It is one of the world's largest exporter and importer of goods and has a large national economy. Therefore Mergania is a leading nation in the EUEC. The unemployment rate is low and Mergania has one of the highest labour productivity levels in the world. Especially the modern industry of Mergania is regarded as one of the most competitive and innovative. An overview of companies in Mergania is provided by the Ministry of Economic Affairs.
Some of the world's largest and well known companies are headquartered in Mergania. 16 Mergan-based companies are included in the MHB, the Mergan stock market index. Mergania is recognised for its large portion of specialised small and medium enterprises, which are very flexible and innovative. Many of these companies are global market leaders in their segment and are labelled hidden champions. Chaussee near Freistat developed a thriving, cosmopolitan hub for startup companies and became a leading location for venture capital funded firms in the EUEC.
Data
Companies
See also: List of companies in Mergania
Some of the world's largest stock-market-listed companies are headquartered in Mergania. 16 Mergania-based companies such as LeunaOil, Pliar, Template:MER-company and SAF are included in the MERGHAB16, the most important Mergan stock market index.
Mergania is also recognised for its large portion of specialised small and medium enterprises. Around 850 of these companies are global market leaders in their segment and are labelled hidden champions. Examples for those relatively small but highly successful companies are Template:MER-company and Template:MER-company. Freistat developed a thriving, cosmopolitan hub for startup companies and became a leading location for venture capital funded firms in Eastern Uletha.
Sectors
Primary
Industry
Services
Technology
Currency
Thaler (₸) is the official currency of Mergania. One Thaler is divided into 1000 Millar.
Infrastructure
See also: Infrastructure in Mergania
Transportation
The volume of traffic in Mergania, especially goods transportation, is at a very high level.
Road traffic
Mergania has a dense network of roads. which is extensively used.
The Staatsautobahn (Ingerish: Confederate Motorway, Mergan: Sτąąτsąưτoɓąӊɲ, SAB) is the Mergan confederate highway system. Where no local speed limit is posted, the advisory limit is 120 km/h. Only federally built controlled-access highways meeting certain construction standards including at least two lanes per direction are called Staatsautobahn. They have their own, green-coloured signs and numbers smaller than 20 in the numbering system. All Staatsautobahnen are named by using the capital letter "A" (for the first category), followed by a blank and a number (for example "A 1"). The main Autobahnen have single digit numbers, shorter sections have numbers between 11 and 19. The Staatsautobahnen are considered the safest category of Mergan roads: in 2007, while carrying 22% of all motorized road traffic, they only accounted for 7% of Mergania's traffic fatalities. Mergan Staatsautobahnen are toll-free for light vehicles. A blanket mandatory toll on trucks and buses was introduced in the 1980s.
The national roads in Mergania are called Staatsstraße (Ingerish: Confederate Highway, Mergan: Sτąąτssτrąʂє, SST). Their numbers are between 21 and 99 and are usually well known to local road users, as they appear (written in black digits on a yellow rectangle with black border) on direction traffic signs and in street maps. A Staatsstraßen is often referred to as "B" (for the second category) followed by its number, for example "B21". While the first digit stands for the region, more important routes have a lower second digit.
B21
B22
B31
B32
B42
B43
B52
B53
B61
Other main public roads are maintained by the States, called Landesstraße (Ingerish: Country Highway, Mergan: Ląɲɗєssτrąʂє, LST). The numbers of these roads are prefixed with "C" (for the third category), but are usually not seen on direction signs or written in maps. They appear on the kilometre posts on the roadside. Numbers are larger than 110, where the first digit stands for the state.
Minor roads and streets are built and maintained by the municipalities. These roads have the number prefix "D" (for the fourth street category).
Railroad traffic
coming soon...

The capital Freistat is accessible by Metex and Tunnelbahn, which serves as the main means of transport there.
Aviation
coming soon...
Shipping and inland water transport
Mergania's major port is the Port of Brugham.
Utilities and disposal
Energy
See also: User:Mstr/Sandbox/Mergania#Energy
Water supply and sanitation
See also: User:Mstr/Sandbox/Mergania#Infrastructure
Disposal
Telecommunication and computing
Mergania has its own top-level domain Template:MER-sandbox and as a special, Template:MER-sandbox for the state Wirtembrug.
Demographics
Demographics of Mergania
Demonym
Mergan
Official languages
Mergan
Recognized minority languages
Eshen

Ethnicities

| | | |
| --- | --- | --- |
| Mergan | | 93.1% |
| x | | 1.1% |
| x | | 0.9% |
| Other | | 0.9% |

Ethnicities
x

Religion

| | | |
| --- | --- | --- |
| Christicism | | 89.1% |
| Other Christics | | 1.9% |
| x | | 3.8% |
| Irreligious | | 3.3% |
| Other | | 0.9% |

Religion
x
Literacy
99.3%
Life expectancy
78 (male)
85 (female)
x
x
x
x
Coming soon ...
Religion
Christicism is the largest religion in Mergania, claiming 64.3% Reformatic and 13.4% Ortholic traditions. All other religions accounted for 22.3%[2]. Geographically, Reformatism is spread all over the country, whereas Ortholicism is concentrated in the south, especially in Habsach.
Main churches in Mergania are:
the Reformatic Church in Mergania,
the Mergan Ortholic Church,
the Freedenom Church.
A unique features of Christicism in Mergania is the fairly advanced reconciliation of both parts of the chirch, so called Oicumenism. One of the main steps was the foundation of the Monestary of Zaite, which is notable for being composed of more than one hundred brothers from Reformatic and Ortholic traditions. The community emphasizes the reconciliation of all denominations. This movement is internationally known, attracting over 70 000 young pilgrims annually.
Languages
Mergan is the only official and predominant spoken language in Mergania. Typically, Mergan citizens are multilingual, 74% claim to be able to communicate in at least one foreign language, usually Ingerish. Further native minority languages in Mergania are Eshen, x, as well as x. The most used immigrant languages are Ispelian, x, and Kårska.
Education
Responsibility for educational supervision in Mergania is primarily organised within the individual confederate states, which follow the rules made by the Ministry of Education and Research. Kindergarten education is provided for all children between three and six years old, after which school attendance is compulsory for at least nine years. Primary education lasts for five years. Secondary education includes three traditional types of schools focused on different academic levels: the Oberschule enrols the most gifted children and prepares students for university studies; the Mittelschule for intermediate students lasts five years and the Gemeinschule prepares pupils for vocational education.
The standard system of apprenticeship called dual education does not lead to an academic degree. Instead, it allows students in vocational training to learn in a company as well as in a state-run vocational school. This model is highly regarded and reproduced all around the world.
All Mergan universities are public institutions, and students have traditionally studied without fee payment. The general requirement for university is the Cog, a qualification normally based on continuous assessment during the last few years at school and final examinations, there are no exceptions. Academic education is open to international students and is increasingly common. In the academic ranking especially the Technical University of Bronn has a prominent position.
School in Mergania
secondary
12
Oberschule
11
10
Gemeinschule
Mittelschule
9
8
7
6
primary
5
4
3
2
1
Kindergarten
Universities
The Technical University of Bronn (TUB) is the largest education institution in Mergania and one of the most prestigious research institutions worldwide. Further institutions are the Tecscleron University in Freistat, O'Hanna University in Johannastat, Technical University Gausbrug, Amadeus University Gausbrug, University Werschin, University Wiesbrungach, Brugham School of Trade and Business, Mergodin School of Economics and Engineering, Fridericiana University Fiorentia, Holswig University Büleck, Northern University in Thoga and the University Suidbrug.
Health
Mergania's system of hospices, called spitals, dates from medieval times, and today, Mergania has one of the world's oldest universal health care system, dating from the 1920s. Since then, reforms and provisions have ensured a balanced health care system. Currently the population is covered by a health insurance plan without any need for a private health insurance contract.
Culture
Music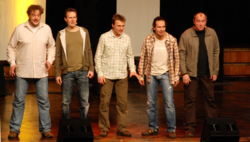 Mergan classical music includes works by some of the world's most well-known composers like Leonhard Buck, Karl Strass and Johann Sing. Others like x, x and x are important composers of the 20th and early 21st centuries.
In the past 50 years, Mergan music includes the movements of pop, heavy metal/rock, punk, pop rock, indie, folk music, and hip hop. Mergan DJs and artists of the techno and house music scene gained global influence, with x pioneering in this genre. With the Five Guys (Fünf Kerle), Mergan a capella music have become well known in the whole world.
Sports
Field hockey
Main article: Template:MER-sandbox
Football
Main article: Template:MER-sandbox
Football (soccer) is one of the most popular sports in Mergania, with the most registered players and most clubs among all sports in Mergania.
Other Sports
comin soon...
International contributions
Further reading
References
See also
External links