Collab:Federal States/Franchises
Jump to navigation
Jump to search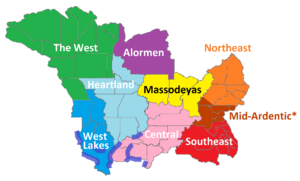 FSA collaborators may input franchises located in the Federal States that they would be comfortable with them being mapped either regionally or nationally. This list will be organized by type of business. Some details may also be included, such as where your company is primarily based. If a headquarters is mentioned, make sure to link to it on the map at some point. Feel free to add more franchise types as needed.
Fast Food
Burgers
Fast Food - Burgers
Company
Sector
Headquarters
Available Regions
Notes
NW
HL
WL
AL
MD
CT
NE
MA
SE
Burgiie's
Burgers
Available
Fast food burger place available nationwide.
Huckelberry's
Burgers
Wahanta, CL
Inexpensive fast food burger restaurant available nationwide.
Duchess
Burgers
Available
Fast food burger joint which also specializes in ice cream.
Burger Ram
Burgers
Penquisset
Fast food burger place available in the Southeast coastal region of the FSA.
Hiway Diner
Burgers
Available
Hamburger fast food chain available in the West.
Yumburgers
Burgers
Available
Pizza
Fast Food - Pizza
Company
Sector
Headquarters
Available Regions
Notes
NW
HL
WL
AL
MD
CT
NE
MA
SE
Cookin' Pizza
Pizza
Cygagon (foreign)
Fast food pizza place; international chain.
Aparicio's
Pizza
Lake City, MN
Pizza by the slice. Originally focused predominantly in mall food courts, train stations, airports, etc., but recently expanding to standalone businesses.
Pizza Storm
Pizza
Available
Fast food pizza restaurant. Includes Pizza Storm Express, the shopping mall food court and gas station version.
Tacos
Fast Food - Tacos
Company
Sector
Headquarters
Available Regions
Notes
NW
HL
WL
AL
MD
CT
NE
MA
SE
TacoFresh
Tacos
Available
Chain available for the entire FSA.
Especia
Tacos
Available
An Archantanized Latinian-food fast food chain with things like tacos, quesadillas, burritos, etc.
On Fire
Tacos
Available
Fast casual chain of restaurants available nationwide serving made to order burritos and bowls.
Social Tacos
Tacos
Available
Available nationwide, counter service restaurants serving nachos, fajitas, burritos, enchiladas, quesadillas and bowls.
Chicken
Fast Food - Chicken
Company
Sector
Headquarters
Available Regions
Notes
NW
HL
WL
AL
MD
CT
NE
MA
SE
CluckyClover
Chicken
Available
A fried chicken restaurant available across the entire FSA, especially in Grand Lake states.
Winghouse
Chicken
Available
Fast wing shop available nationwide in suburban areas.
Yoyo's Chicken
Chicken
Available
Fast food place. Available only in the Northeast.
Cooper's Fried Chicken Fingers
Chicken
Available
Fried chicken chain in western FSA.
Wingerz
Chicken
Available
Chain known for their chicken wings and sauces, mainly located along the east coast.
Deli/Sandwiches
Fast Food - Deli/Sandwiches
Company
Sector
Headquarters
Available Regions
Notes
NW
HL
WL
AL
MD
CT
NE
MA
SE
Fieldie's
Deli/Sandwiches
Available
Stadium-themed sandwich shop available nationwide, popular at stadiums.
Hans & Frans Soup & Sandwich
Deli/Sandwiches
Zakahigan
Chain of sandwicheries which also serve soup. Offers special location options, including university campuses and airports.
SubFusion
Deli/Sandwiches
Available
Highly franchised sub/sandwich shop available nationwide.
Bagels & Bites
Deli/Sandwiches
Available
Regional Lakes-area chain specializing in bagel sandwiches.
Presswiches
Deli/Sandwiches
Available
Sandwicherie chain specializing in paninis, though submarine sandwiches are sold as well. Locations concentrated in the Lakes region, with some exceptions.
Breakfast
Fast Food - Breakfast
Company
Sector
Headquarters
Available Regions
Notes
NW
HL
WL
AL
MD
CT
NE
MA
SE
Waffleville
Breakfast
Available
Breakfast fast food chain in western FSA.
Other/Various
Fast Food - Other/Various
Company
Sector
Headquarters
Available Regions
Notes
NW
HL
WL
AL
MD
CT
NE
MA
SE
Sunday Steakhouse
Other/Various
Available
Nationwide fast food chain serving a wide variety of foods.
Golden Cafeteria
Other/Various
Duncanheim (foreign)
Fast food chain based in Duncanheim, available for the entire FSA.
Peninsula Fast Food
Other/Various
Available
Chain available for the Southeastern "peninsula" (Culpepper, Astrantia, and eastern).
Midlands Grill
Other/Various
Available
Serves a variety of foods in a fast casual setting. Mainly in the eastern and central parts of the country.
Jacky's
Other/Various
Available
Regional chain serving Northeastern-style cuisine. Locations primarily in the Northeast and Mid-Ardentic regions.
HowWok
Other/Various
Available
Fast Chinese place primarily in urban and suburban centers of the West.
Cafes and Bakeries
Coffee Shops
Foreign
National
Regional
Coffee Fair a small regional chain in the New Carnaby/Culpepper area, but welcome to spread
The Awakening a small, higher-end cafe company known for its homey, relaxing decor, but with a very limited number of places (probably around 50). Please limit these to states neighboring Template:Aquilia.
Starlight Cafe a chain of coffee and pastries in the middle and western FSA. This is highly franchised.
Ice Cream
National
Freezing Point Ice cream shop service soft-serve ice cream and fast food. Some locations are only open seasonally.
Ice Nine a nationwide ice cream and frozen treats franchise based in Penquisset.
Sweet Bee is a nationwide chain serving ice cream and other desserts.
Bakeries and Pastries
National
Buntie's a bakery and pastry chain based out of Penquisset and found widely across the country.
Glacé a nation-wide bakery and café which sells varieties of pastries and cakes.
Cookie Coliseum cookie bakery found in shopping malls.
Regional
Phil's Pastries a bakery and pastry chain found in the southern part of the country, based in Fellshire.
Other
National'
Bobang a café found nationally, mostly known for its bubble/boba tea. Based in Stafford, Eustacia.
Regional'
Tunnel Vision Pretzels is a pretzel-specific bakery chain located in the Great Lakes and Southwest regions.
Best Blends Smoothie shops available in the West Lakes area.
Pop Plenty Gourmet popcorn shops, based in Minnonigan.
Restaurants
National
Regional
Banks
National banks
Western Bank based out of Dennison, Sierra, historically prevalent across the west and north of the FSA but can be used anywhere
First Archantan Bank prevalent in the eastern half of the country but intended to be nationwide.
NBA National Bank of Archanta - nationwide bank, HQ in Stanton-NC
Students' Credit Union is a credit union with most of its locations in college towns and on university campuses. SCU has its headquarters in Zakahigan and seeks to be a national brand.
Federal Forces Credit Union Credit union restricted to current and former members of the FSA armed forces. Branches and ATMs often found on or near military installations.
Regional banks
State banks
Retail
Apparel
Faves a clothing store for young women, based in Raidenne, Culpepper.
Needle & Thread a unisex clothing company.
hoodie's a clothing store specializing in custom and name brand hoodies.
Archantan Flannel Company is a clothing store best known for its flannel shirts.
Laces is a large chain that sells shoes and athletic clothing, with locations throughout the country.
Island is an upscale clothing chain located mostly on the east coast that sells men's, women's, and children's clothing and accessories.
The Shoe Show nationwide warehouse shoe store found in shopping centers.
Toledo's generic clothing store found in shopping centers and malls.
Arts & Craft Stores
National
Frantleys - large store with all kinds arts and crafts supplies. Found nationwide.
Hobby House - large store with all kinds art supplies, fabrics, and home decor. Found nationwide.
Auto Parts
Big Box (Hypermarkets/Superstores/Bulk Stores/etc.)
National
Regional
Maxima - a wholesale/cash and carry in western/north FSA (based in Sierra)
Books
National
New2U Books - used book seller. Only found in large cities and cities with large universities.
Regional
Scheun & Edler - founded in Creedle, New Carnaby, now in Stanton - most shops in the eastern part
Paige & Page Book Store - big box book store - found along west coast and mountain region
Electronics
Planet Desktop an electronics and computer store (found in Sierra and elsewhere)
TechCenter an electronics and computer parts store geared towards enthusiasts located in northwestern FSA.
Farm & Ranch
Regional
Kerbys Farm & Ranch Supply - regional medium size box store dedicating to farm and ranching supplies such as tools, flannel clothing, animal feed, and fencing. Found in Mountain and West Lakes Regions in rural communities with between 2,000 and 30,000 population
Furniture
Home Improvement/Do it Yourself
National
Loads - Found nationwide.
Regional
Hammer & Nail - founded in Oakhill, now all in the eastern and middle FSA
Home Improvement Co. - found in the Southeast and Lakes regions of the FSA
good luck found in the West Central Region and plains of the Mountain region. Named after the mountain folks' joke that the farmers below can do nothing.
Office Supplies
National
Office Inc. - large office supply store. Found nationwide.
The Organizing Organization - store dedicated to organization (i.e. containers, totes,). It is only found in large metropolitan areas with one per market.
Pet Supplies
National
Chew Toy Depot - large store with all kinds of pet food and toys, found all over the country.
PetLover - store dedicated to the adoption of pets and the sale of products for animals.
Sporting Goods/Outdoors
National
Champion Camp Co. - Outdoors store found in large cities. Sells camping, hunting, fishing, and sporting goods. Usually a large box store, but sometime found as a medium to large anchor in shopping malls.
Big Barry's - another large sporting good stores. More focused on selling clothing and sporting goods than outdoors supplies.
Paragon Sports Store - Specializes in outdoor activities usually for the mountains— fishing, camping, skiing, etc, not that big of a store so can be found in smaller, starting-point towns
Supermarkets and Grocery Stores
Upscale
National
Nichols - chain of smaller, higher-end markets specializing in higher quality and organic foods
Regional
Massodeya Superlocal - Chain of smaller, high-end groceries, specializing in local fairtrade, organic foods and high quality produce. Headquartered in Huntington. Mostly found in both West and East Massodeya. Though rarer in the East Central Region of the Federal States
Mid Range
National
Regional
(Locations can be placed further out sparingly, but the primary market should be the Eastern Seaboard.)
Budget
National
GUDBY - (Good buy) Small footprint discount grocery store that only sells private label.
Regional
Greenfoods - A discount supermarket chain found primarily in low-income areas throughout the southeastern region of the FSA
Las Provisones - Small, cheap store found in urban areas around the eastern mountain range.
Chamberlain's - Smaller store with really cheap prices, usually found in suburban areas in the northeast region. Zero locations
Produce
Hilton Farms usually places agriculture products in chains but owns independent shops spread nationally with few international locations. In rural areas, there are production facilities to package and prepare the food for distribution.
Specialty
Thrift (Second-Hand) Stores
National
Variety ("Dollar") Stores
National
Dollar Castle - a variety store where items and packaged food are cheap due to either small sized packaging or poor quality. Spreading across rural FSA in the outskirts of small towns.
Dollar Bills a thrift store with all merchandise costing $1.
Regional
Scrip$avers - "Dollar" store chain based in Minnonigan.
Convenience Stores
National
Universe is a standalone convenience store
Regional
Hotels
Companies
5-Star
4-Star
3-Star
2-Star
1-Star/Motel
Fuel
Truck Stops
National
Rest Stops
Note: Individual states may or may not permit private companies to operate rest areas on the motorway system.
National
ROUTEstop national rest stop chain with a gas station, charging station, fast food restaraunts and a small campsite.
Busterson's national rest stop chain, gas station & supermarket in competition with ROUTEstop. These are found in smaller towns & cities and is a pretty big gas station.
Filling Stations
National
Archantol/Archantoil - a gas station chain that probably is operated nationwide
SevenMiles - gas station found all around the FSA. Called so because of its frequency.
Fossill national gas station chain based out of Clamash.
Regional
Charging Stations
Regional
ECar Charging Station - a chain of electric car charging stations. Manufactured and sold by the Neneehen ECar company.
Penqergy a franchiseable renewable energy provider for electric vehicles at stations across the state of Penquisset. Also have some interstate locations. Company also has home provider / community engineering operations.
Power Generation
Regional
Penqergy a franchisable energy provider for communities seeking to achieve a higher degree of sustainability based out of Penquisset. Some engineering contract areas of exploration include solar, wind, aqueous, thermal, and pedekinetic. Also has energy servies for vehicular energy
Media
Radio and television networks
Note: MCR and UANN have no headquarters, but have offices and major offices. You may add offices without permission, but contact iiEarth if you would like a major office.
Pharmacies
National
Regional
Technology
Hardware and Software
Ember (wiki link) a computer and other hardware-manufacturing company, also produces software.
CranBerry a computer/cell phone manufacturing company.
Findix Internet-related company that started as a search engine. Based in Burton, PA.
Versatil A mobile device manufacturer serving the southwestern FSA, headquartered in Nenova, Aquilia. lost state
Evo Electronics company manufacturing computer hardware as well as smartphones. HQ in Silver Valley, Tempache.
Cell Carriers
Minnonigan Wireless, or MWireless a once-regional cellular phone provider expanding to the greater southwestern FSA. Based in Ondassagam, Minnonigan; owns naming rights to the Lake City Pitch where the Lake City Blue Stars play. Also operates MWireless Express locations, selling small electronics and accessories in train stations and airports.
StarCellular a cell phone service provider with service and physical locations through the entire country
Fenix Wireless Nationwide cell phone carrier providing wireless voice, messaging, and data services based in Hermosa Park, Tempache. Also operates Elektrik, a low-cost prepaid option.
Social media
MyStory a social media company. MyStory was founded in 2010, and has 28 million users.
LIFEstory a social media company with regional moderation offices and server buildings in certain regions. Zero locations
Shiver a popular short-video entertainment company founded in 2011.
Transportation
Intercity
Airlines
Coach Buses
Cheetah Buses- Cheetah Buses is a coach bus company that serves the FSA and the rest of Astrasia. Bus depots are usually in Towns/Cities with a population over 1K
Redfox Trailways- Redfox Trailways is a coach bus company that serves the FSA. Competitor of Cheetah Buses but sometimes share depots in towns/cities with intermodal stations
ArchanTrails- Coach bus company offering intercity service throughout the west and the Lakes region.
Passenger Rail
Quicklink QuickLink is a Nipewan owned lost state railway company that calls their stations Quicklink Terminals and keeps them within big towns and major cities. The stations are somewhat like airports but function like train stations.
ArchRail- High-speed passenger rail service throughout the southeastern Federal States.
LakeLynx- High-speed passenger rail service connecting Lake City, MN; Nishaukee Falls, MN; Ondassagam, MN; and Wallawaukee, SN. lost state
Automobiles
Manufacturers
Crystalline Motors is a luxury car manufacturing company with plants in Gramercy, Seneppi, though much manufacturing has likely been outsourced. Remains of a Gramercy headquarters remain, but Crystalline was bought out by Noble during an economic downturn. Now share many cobranded dealerships as Noble/Crystalline.
Dealerships
Carlivery is a fairly new dealership that sells a vareity of cars (much like Carvana). It delivers cars and has locations with "car vending machines" which you go and pick up the car you've purchased from.
Rentals
Car Rental
Axcess Car Rental a mid-tier car rental company available on-site at most FSA airports. Based in Lake City.
Pennywise Car Rental a mid-tier car rental company available on-site at most FSA airports.
Zap an autonomous car rental service located in major cities, especially at airport facilities and transporation hubs.
Micromobility
Waywheel is an urban bicycle and scooter rental service with operations across the country and a corporate headquarters in Penquisset.
Farm Equipment
Fieldlander - a FSA manufacturer and seller of tractors, combines, and other pieces of farm equipment. Fieldlander Implements (dealerships) are located across the country. The company also has several manufacturing plants around the country.
Movie Theaters
National
Regional
Cineplus (mostly Western) cinema chain, present in Sierra
Theme Parks
Casinos
Companies
Casino Brands
VICE President Casino - owned by Ames Executive Entertainment - More luxurious than Amulet Casino - Found in larger cities, gambling cities, and tourism-based economy cities.
Amulet Casino - owned by Ames Executive Entertainment - Found in smaller cities
Real Estate
Delivery Service
Federal Parcel Service a private shipping/delivery service company with warehouses all over the FSA.
ExpressShip private nationwide logistics company providing delivery and supply chain services.
ITC: money transfer/bank wiring/courier services
Insurance Companies
Mutual of Wahanta - large insurance company based in Wahanta, Clamash
PLICO - medium sized life insurance company based in Gantiac, Clamash (Planner's Life Insurance Company)
Regionwide - large car and home insurance company. No HQ yet.
Hospital Networks
ConcordaHealth a large hospital network with HQ in Wahanta, CL. Currently there are several hospitals owned by Concorda Health in Wahanta. Hospital names are preceded by ConcordaHealth (i.e. ConcordaHealth Memorial Hospital). Currently has naming rights to the soccer stadium in Wahanta. Regional HQ offices TBD where appropriate.
Tax Preparing Companies
TaxFSA - nationwide tax preparing company
Financial Advising Companies