OpenGeofiction:Getting started
Jump to navigation
Jump to search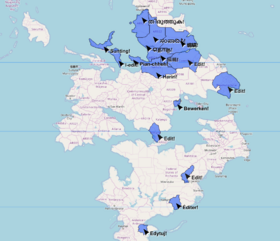 Welcome to OpenGeofiction!
We are glad you are interested in joining the collaborative project. If you are interested in in helping us create this fictional world, please follow the instructions below.
To create an account, you will be asked to create a user name and agree to the site policies and terms.

By signing up, you will have to agree to the terms of use and contributor terms.
We will collect a valid email address from you solely for the purposes of account validation and for a means of off-site communication by the administration team. You must verify your email before you will be permitted to begin editing the map.

Review our rules of mapping before getting started.

An overview of the rules are listed below, but a full listing of site policies and regulations are available by clicking here.
Keep in mind that most of our world is not available for public editing. Mapping in prohibited areas may result in your work being deleted and/or account blocks and suspensions.

Start mapping in one of the

█ blue territories

on our overview map (thumbnail at right, click for full version and territory information).

These blue-colored territories are free for all users to edit and governed by guidelines of etiquette. Look at various towns and cities and try building one yourself. Most have themes and languages defined, while the New User Practice and Demo Zone is dedicated to building up experience. Note that some "blue" territories have some additional rules and regulations for mappers to follow. More information can be found on the list of collaborative projects.

Build up your edit history.

Hone your skills and explore the OGF world by continuing to map in our free-to-everyone "blue" territories.

Join the OGF community and have fun!

Our forums are the official communications hub of OGF. Active mappers are welcome to request a wiki account to discuss topics and collaborate with the broader community on the forums.
A wiki account is required for territory requests. Territory requests can be submitted in the territory application forum.
For mappers who are interested in a more social environment, some members of the OGF community have created dedicated Discord servers. Discord servers and any other off-site methods of collaboration and communication are independently operated and are not officially sanctioned by the OpenGeofiction admin team. All official communications and coordination utilize the wiki forums or direct messaging using OGF's messaging system.
Once you have edited for a while in one of the "blue" territories, you may request to move onward to collaborative projects or to work on an individual territory.
You may request to own an █ available territory (shown in light green on the overview map) by following the territory assignment procedure. When requesting a territory of your own, please remember that such requests are always subject to admin approval, so please wait for confirmation before making any edits in the territory. When creating a territory request forum post, you may wish to refer to previously-approved applications to get a better feel for what level of detail is appropriate and what kinds of information to include in a request.
You may request to participate in a █ collaborative territory (shown in purple on the overview map) by contacting its coordinator.
You are also free to choose both -- or neither -- of these options, and you may continue editing in blue territories.
Overview of site rules

Be realistic

Be original

No imports from OSM. No copying trademarked maps. Doing these things may get you banned.
No extensive copying of real world geography. Try to avoid using well-known place names, real or fictional. No real world companies or organizations.
All images — photos and artwork — must be free to use, and must contain a link to source and/or copyright info. All wiki text must be your own writing.
No copying others' mapping, without their permission.


Be respectful

Show consideration. The admin team are volunteers. Please refer to the FAQ page, the help and resources portal, territory assignment procedures and OSM tagging guides to first attempt self-support. Incomplete or repetitive messages will be ignored and may result in your account being blocked.
No mapping in others' territories or moving the borders of others' territories without their permission. No writing about others' territories in the wiki without permission.
Respect the open seas by following the rules for sea borders, islands, and shipping lines.
Do not extend your territory beyond its shape on the overview map. For borders with unclaimed neighbors, keep them within 10 km of the original line.
No sockpuppets. Only one account per user.
No vandalism. No offensive or insulting content. Consult admin before forming any OGF-related group off-site
No "empires of paper" in the wiki - avoid overwikification.


Be active

After a prolonged period of inactivity, we may mark your territory for withdrawal. Then, if still no activity happens or we don't otherwise hear from you during the following several weeks, we'll mark the territory as free for other users to claim, and close your account.

Violating the rules may result in suspension or termination of your account.
How to sign up
Click here to begin signing up