Weekly site maintenance is scheduled Thursday 04:00–06:00 UTC.
Editing will not be possible during this time, and there may be other brief disruptions. (additional info)
Pyingshum
Jump to navigation
Jump to search
Pyingshum (pjiŋɕɯm) is the capital and largest city of Kojo. It is the country's centre of politics, culture and commerce as well as its main transportation hub.
Infobox
Geography and Climate
Pyingshum
Climate chart
J
F
M
A
M
J
J
A
S
O
N
D
Average max. and min. temperatures in °C
Precipitation totals in mm
Imperial conversion
J
F
M
A
M
J
J
A
S
O
N
D
Average max. and min. temperatures in °F
Precipitation totals in inches
History
City Scape
Architecture, layout and spatial planning, monuments
Demographics
Governance
Mayor and City Government
Election, appointment, person, orga chart
City Council
Election law, makeup, tasks, building,
Dengshōs and Pangs
Pyingshum is made up of nine boroughs (Dengshō), which in turn are divided into a total of xx Pangs. Unlike most other cities in Kojo, not all power is vested in the central city government. Pyingshum is one of only two Kojolese cities that have a second local layer of government on the borough-level. They have some competences in the area of road construction, amenities, ordinances, building permits etc. While elections of the local borough-councils are analogous and simultaneous to the city-council, the borough mayors are not elected by the people directly but instead elected by the respective borough-council. They are also not head of the local administration but instead perform mostly representative functions. Unlike the city council and mayor, sitting on a borough-council or being borough-mayor are honorary offices with small expense allowances instead of fixed remunerations. The borough-councils further appoint members of neighbourhood-boards. They are made up of 5-30 adept residents of the Pang who advise the borough- and sometimes city-council on local matters.
For a list of and information about all Dengshōs and Pangs in the city, refer to the main article: Administrative divisions of Kojo#Pyingshum-sur.
Transportation
Key Data
Road
Many national motorways radiate out from the city. They end at the ca. 40 km long, central ring motorway G100 that encompasses the inner city. Several tangential motorways form a less circular, second ring of motorways through the suburbs.
Since the rise of motorisation, rising motor traffic has been dealt with in two complementary ways: on one hand the city tried to meet the demand by building high-capacity car infrastructure, mostly from the 1940's till 70's, often at the costs of local neighbourhoods. On the other hand, car usage in the inner city has always been discouraged in a number of ways. Since the 60's, many narrow streets in central neighbourhoods have been turned into pedestrian and bike priority or only streets. The vast public transportation network has constantly been upgraded to provide attractive alternatives to the private car. There is virtually no free public parking, and high fees are imposed on car ownership in the inner city in general. Like on most national highways, users have to pay tolls to use them. In Pyingshum during rush hour, additional congestion charges apply which can up to double the toll or even quadruple the toll on the G 100 compared to the national standard. Most of the city is also designated as low-emission vehicle zone. It is possible to buy-out one's vehicle from this ban by paying, depending on the vehicle's emissions, a fee from 3,500 Zubi up to 15,000 Zubi (~600 int$) per month. The car sticker given out to these exempt vehicles is also known as "Daiamondoshi-medal", because most of them belong to a super rich elite who resides in Daiamondoshi-Pang and are willing to pay these exorbitant amounts to be able to show off their prestige cars.
Rail Network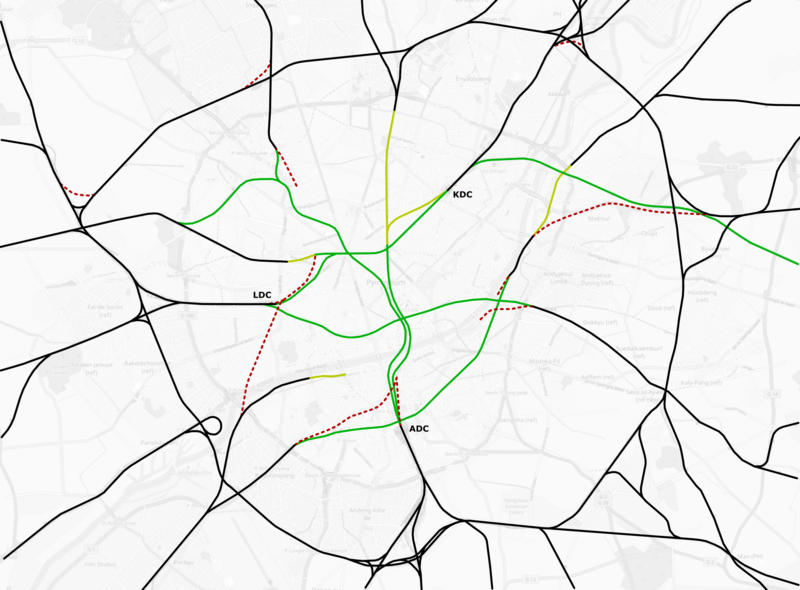 The growth of the railway network is closely tied to the general history of the city. The first lines were built by private companies in the second half of the 19th century, with most companies building one or more terminus stations. Throughout the 20th century, several stations were moved further out of the city center and railway lines extending into the city were dismantled and replaced by underground metro or later Papáchē lines. Limbē-Dyanchezi was opened in 1909 to take over most services to Ozuman Chezi in Daiamondoshi-Pang, Kibō-Dyanchezi in 1929 to replace Humenyamin Chezi, also in Daiamondoshi, and Aku-Dyanchezi in several phases in the 1970's as a replacement for the overburdened old Akuchezi in Doíku-Pang. Also in the 1970's, many suburban railway lines that until this point terminated somewhere on the edge of the inner city were connected with new underground tunnels to form the Papáchē network.
Public Transit
Regional Rail
KCP, KCS and KC
Papáta Huwochē (Suburban)
Chitakyoe Huwochē (Metro)
Shigájanchoel (Light Rail)
Bus Network
Public Transportation Fares
Long-distance Rail
IC and CC
Airfare
Pyingshum International Airport, around 50 km to the east of the city center near the city Formajiá, is the regions principal airport and also functions as hub for all of Kojo. It served 67.3 million passengers in 2021. It is the busiest airport in Kojo by far both in terms of passenger and freight volume. It is a relatively new airport with a main terminal in the shape of a six-armed starfish. There, it features a large tropical garden open to all levels with a cylindrical waterfall entering through an opening in the roof construction.
The first airport in the city was the Kū A'éropō, opened with a circular airfield in 1916. Its later runway had a usable length of around 1.5 km. It was well known for its proximity to the city center. In 1939, a second airport was constructed to the south-east of the inner city, named Longte Puechaésa A'éropō. This larger airfield allowed for two parallel runways with a usable length of up to 3.2 km. This became important in the 1960's and onward, when the jet age radically transformed civil aviation and enabled more and more people to fly. The hexagon-shaped main terminal, opened in 1964, is emblematic for that time period and preserved as a historic building to this day. Over the years, as air traffic continued to grow and Kū A'éropō became unfit for most air traffic due to its short runway and noise pollution, more and more side terminals were added.
It became apparent in the early 1990's that further expansions at Longte Puechaésa were unfeasible due to lack of space. Similar to the closed Kū A'éropō, the adverse impacts of noise pollution also became a heated subject of discussion. As a result it was decided to construct a large new national airport far outside the city boundaries. Quick access to the city and the rest of the country was ensured by the newly to be constructed Papáchē line and a high-speed railway. A first provisional terminal, which nowadays is used by low-cost carrier airlines, as well as the first two of a total of four runways opened in 1998, which enabled the full closure of Kū A'éropō and the conversion of its airfield into green space and part of the railway corridor connecting the new airport to Kibō-Dyanchezi. The main terminal building opened in phases between 2003 and 2005. The newly added capacity allowed Longte Puechaésa to close for scheduled air traffic in 2004. Consequently, Longte Puechaésa's southern runway was converted into a park area and all side terminals and parking areas were turned into new neighbourhoods and commercial areas. Longte Puechaésa remains in use for special freight deliveries, government as well as private flights. Since 2019, a new midfield terminal is under construction at Pyingshum International. Since 2021, Arm C is the first arm to be closed for a thorough renovation.
Shipping
The river Kime is an important route for freight shipping. Passenger ferries play only a very minor role due to the high number of bridges, however there is a large number of sightseeing tours, especially along the scenic river banks in the inner city and the Sunmyuel Tyanhā, as well as a small number of river cruises.
Pyingshum's ports, from north to south, are:
Moebi Nafahang (1 basin, with rail)
Kókōburyu Nafahang (4 basins, with rail)
Chin Tákoechiwe (1 basin, no rail)
KART Nafahang (1 basin, no rail)
Sunmyuel Tyanhā, Mómauel-Pang (sightseeing and river cruises only)
Kansokkuwīdoling Nafahang, Róng'yeda-Pang (2 basins, private yachts only)
Porāgu-Parishíla Nafahang (11 basins, with rail, Geolymp)
Éngkai Kū Nafahang (1 basin, recreational use only)
Economy
Primary Sector
Secondary Sector
Tertiary Sector
Retail, public, service and tourism sector, research, gastronomy
Important Institutions
National and International governmental institutions and NGOs
Education and Research
Schooling
Higher Education
Culture and Leisure
Green Spaces
Parks, Zoo and Botanical Garden, Beaches, environs
Public Events
Sport and Event Venues
Museums
Performing Arts
Street Culture
Libraries and Archives