User:Bixelkoven
Jump to navigation
Jump to search
Introduction
Hello. I am Bixelkoven.
Contact me via the OGF messaging system or go to the discussion page clicking the link just above the page; You can contact me using Serbian or English.
My projects
| Color | Title |
| --- | --- |
| | Active (orange) territory. |
| | Collaborative (purple) territory. |
| | Active (orange) territory with more users editing. |
| | Former territory. |
| Name | Info | Status |
| --- | --- | --- |
| Auronia | My first ever territory. Inspired by Sub-Saharan African nations like Eq. Guinea, Gabon and DR Congo. | Former territory |
| Zalivnia | Collaborating with other users in making an OGF version of my home country. | Contributor |
| Steilerberg | Collaboration between me and Tule00 on a small micronation in the middle of Reeland. Inspired by Liechtenstein. | Formerly a participant |
| Lilian Islands (Ardencia) | An island county/powiat within the nation (and project) of Ardencia. (Thanks Rustem Pasha for helping with names!) | Former territory |
| Nomatsi | A country inspired by the nations of Malawi, Namibia and Botswana. Collaboration with User:Theruler and User: Rhiney boi. | Former territory |
| Kwinatu | A collaboration between the mappers of CCA and Nòmatsi. Nation inspired by Lesotho, eSwatini and Rwanda. | Formerly a participant |
| Qennes | A Romance nation in the south of Uletha. Linguistically a mixture of Romanian, Greek and Vlachian (my local language). Geographically inspired by Provence. My main project. | Owner |
| Tennewa | A state within the FSA. Inspired by Montana and Nebraska. Co-mapping with User:oneofbeatlefan. | Former owner and co-contributor |
| Taranrii | An island in the Asperic Ocean of volcanic origin. Inspired by Réunion and Tristan da Cunha, though a bit colder. | Former territory |
| Kvaloyar | Collaborative project inspired by the Faroe Islands in a scenario without Denmark. See OGF:Kvaloyar. | Contributor |
| Malesoria | Collaborative project, inspired by Albania, with a lot of different cultures, and unique geography. See Collab:Malesoria. | Former owner; contributor |
| Castellán | Castellanese (OGF:Spanish) homeland. Mapping the Cape Region in the southeast. Collab info | Contributor |
| Commonwealth of Central Archanta | Country based on South Africa and various other African nations. | Contributor |
| Manawa | Southeast Asian-styled nation. Based on the nations of Indonesia & Cambodia, with ideas also taken from other nations of that region. | Owner |
Miscellaneous
OpenGeofiction at r/Place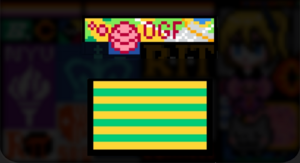 OpenGeofiction was represented on r/Place (an every-five-years event hosted on Reddit where more than a million users paint a large canvas pixel by pixel). A group of about 10 people managed to take up a little area of the canvas and create a little pixel artwork of OGF. The unique OGF globe with its initials, on a map. Later on, we created a second artwork, the flag of

Navenna. The task wasn't as easy as it looks like, requiring constant activity to ensure survival.
In the end, it didn't end well for our little art sets. It was a great honour to have a little community like OpenGeofiction be represented on one of the largest projects of the Internet, just shows how great we are!
OGF's position on the timelapse of r/Place.
Other users' works
My personal hall of fame of OGF pieces of mapping...
Some incredible places:
Pictures