Collab:Gobrassanya/Gobras City
Jump to navigation
Jump to search
Gobras City is the capital of Gobrassanya. This page is a guide for the collaborative creation of the city.
General layout
The city is based around the Capitol building, which is set within a Kilometre Square. Roadways radiating away from the capitol are named after the districts of Gobrassanya. Various ministry departments and are located in the blocks surrounding the capitol grounds.
Street grid
The block size for the street grid is 125m with major streets planned on the 1 to 1.5 km blocks
Street grid, in the suburbs
Suburban developments are based around a "quad" super-block, which is itself roughly based on the 125m grid.
Main (highway=trunk,primary,secondary) streets are 2km apart and stay basically straight and are typically divided highways. Roughly at the 1km mark are tertiary roads, which bend and move with the terrain. The tertiary roads are flanked by dedicated cyle routes. At approximately the 500m marks are unclassified roads that also connect into neighbouring squares. All other roads within the 2*2 square are residential and not through connected. parks, schools, facilities as appropriate...
As a guideline there should be at least one rail or subway station per quad.
To the southeast the city street plan is not laid out by a grid layout. Streets will meander more in this area. neighborhoods will also be laid out as they are in the west part of town, however there will be some larger high density residential and commercial developments located around the area such as what is constructed at Enalee to the east. Soran should also be designed as one of these districts. These areas need more assistance in construction.
The Oleander hills region of the city will be more upper middle class and upper class homes with more spacing between streets and more upscale amenities.
Principal Highway Network
A 1-2-3-66-101-402 are completed in their current alignments through the city. Interchange spacing regarding any new interchanges should be spaced at approx 2km between interchanges with allowance of 1km spacing in the city center.
A 201 can be extended north if needed to accommodate future growth if needed.
A 202 Bangerter Highway is the outer belt motorway. Interchange spacing along this corridor should also follow the 2km spacing rule as well. confining junctions to major thoroughfares only.
B 31, B 33 and B 301 will remain as a trunk route (superhighway/expressway) and not be upgraded to a full motorway as development near the corridor does not allow for the roadway to be expanded and it is better served by A 3 or the A 1.
Speed Limits
Roads generally should have the following maximum speed limits:
Motorway: 120 km/h
Trunk: 100 km/h
Primary: 90 km/h
Secondary: 70 km/h
Tertiary, Unclassified: 50 km/h
Residential: 30 km/h
Living street, Service: 20 km/h
Within the 100 Ring lower speed limits generally apply:
Motorway: 100 km/h
Trunk: 90 km/h
Primary: 70 km/h
Neighbourhoods
If you would like to develop an area please check it is free here and then mark it. Any questions then discuss on the talk page.
Ward Number
Name of Ward Villa or Neighborhood
Main Editor
Main landuse
1 - 4
5
Quartier Axien
dono87
Residential & Commercial
6
7a, 7b
Promenade
Recreation & residential
8 - 11
12
Nove
trabantemnaksiezyc
Residential
13
Bai Quarter
zhenkang and coshatiuav
Mixed (with oriental flavours)
14
Ward 14 (Gobras City)
Luciano
Mixed
15
Downtown NW
collaborative
Mixed
16
Downtown N
collaborative
Mixed
17
Downtown NE
collaborative
Mixed
18a, 18a
Port
collaborative
Industrial
19 - 27
28a
Eco Town
clik
Mixed (mostly sustainable)
28b
Eco Town
clik
Mixed (mostly sustainable)
29 - 30
31
Downtown SW
collaborative
Mixed
32
Downtown S
collaborative
Mixed
33
Downtown SE
collaborative
Mixed
34 - 45
46
Arena & Sportstown
wangi
Recreation & residential
47
Sowseter
48
Yuiona
49
Keir
50
Yalarah
Easky30
Residential, industrial
51 - 53
54
Gillkenny
Boge
Residential, retail
55
56
Tudor Farms
Agricultural, transit-oriented development
57
Lhatvohg Fields
Agricultural, transit-oriented development
58
Tissoons
chazeltine
Industrial, transit-oriented development
59
Lamme
wangi
Residential, commercial, retail
60
Lhatvohg
wangi
Residential, reservoir
61
Nordenie
FBG
Residential, retail
62
Hardy
63
Khaikeagha
Easky30
64
Easky30
Industrial, ?
65
66
Boristown
heltonkm
67
68
Hearmest
Hmaps5678
Residential, Commercial
69
Tâmyña
70
WorldPort
indyroads
Airport
71 - 72
Tissoons
chazeltine
Industrial
73
6 Points
wangi
Industrial
74
Points Park
wangi
Mixed
75
Hampton Hills
FBG
Residential
76
Colquit
wangi
Residential
77
Connolly
78
Cele
79
Commercial
80
Quayleeplan
Easky30
Residential
81
Macaris Park
82 - 86
87 - 88
Industrial, commercial
89
Oziato Plains
wangi
Residential
90
Omaranta
wangi
Residential
91
Meeonoa
92
Sawsights
FBG
93
Isaulk
Easky30
Residential, Retail
94
Uroobai
Easky30
Residential
95
Renuhono Bank, Prado Plains
Easky30
Residential
96 - 97
98
Enalee (Gobras City)
indyroads
high density Residential
99
Soran
indyroads
Residential - Core commercial
100
Baratipur
indyroads
residential - ethnic neighborhood
101
Hhoovia
102
Keena
103
Calfonoa
104a, 104b
Albedeer University
FBG, Wal
Education
105
Ranelah
Easky30
Industrial
106
Broad Meadows
Easky30
Residential
107
Wiyhut
108
Riverbend
109
Jaspee
110
Capital Heights
111
112, 113
Tovena
Rhiney boi
Residential
114
Lunamong
115
Dunnsbank
Easky30
Residential
116
Avawoon
117
South Meadows
118 - 119
Naming
In general naming is in Ingerlish, with names inspired by Gobrasi languages.
Street names
The following street name suffixes are used:
| Suffix | Circumstances |
| --- | --- |
| Road | for distributor and access routes, leading to/from the named locality |
| Drive, Boulevard, Avenue, Street | for distributor and access routes |
| Brae, Heights, Hill, Rise, View | for a street on a gradient, or on a hill |
| Crescent, Loop, Curve | crescent shaped street |
| Avenue | tree lined, or wide |
| Circle, Circus | for a circular street, or a roundabout |
| Square, Plaza | street forming a square or other wide public space |
| Path, Walk, Wynd, Way | small streets or paths, likely not straight |
| Field, Gardens, Green, Grove, Park | for streets dominated by areas of green space |
| Trail, Walk, Way | for longer paths |
| Close, Court, Gate, Parade, Pend, Place, Street, Trace | for small streets and cul-de-sacs |
| Row, Terrace | street which is predominantly a terrace of houses |
| Moorings, Port, Quay | for streets associated with shore side areas |
| Alley, Lane | service streets |
Street names should be entered without using an abbreviation.
Mass Transit
RT-Metro (Subway/Rail)
The mass transit system includes the Gobras "RT Metro" currently consists of 9 transit lines
Line 1 (blue) From Keena South station through the downtown, and splits into two branches to Obennai Centre or Enalee at Greenland
Line 2 (dark green) Goes up north to the downtown from West Meadows, then south along Jerrais Avenue to East Prado Plains and extends to Belta
Line 3 (red) Former airport locale service, from GSWX to Obennai Beach via the downtown
Line 4 (yellow) Circular Route around the downtown that begins at the Olympic Lake, going ask to Luniper Lake, south to Isaulk, northwards through Lamme and Galliante, and completes the loop at Olympic Lake.
Line 5 (purple-red) From Reservation Southeast (please do not extend line 5 westwards from there yet as there are not yet any developments), through the downtown and goes southeast to Tonamei
Line 6 (purple) Heading north from Koquino Hills to Fort Anah station at the port area.
Line 7 (pink) From Skypoint West to District Line Road. Medium-capacity line.
Line 8 (turquoise) From Wynot and Yago at the northwest, goes in a southeast direction via Skypoint and ends at Isyee.
Line 9 (orange) Similar route with Line 3, but starts at the Worldport, through the downtown, and ends at Obennai Centre.
Template:RT-Metro multimap (use the interactive multimap above to also see tramlines and other supplementary light rail lines)
Bus System
RT GoBus -- City run bus system that feeds off of the transit terminals. Mostly developed by User:Austinhuang, with contributions from User:Dono87, User:Squizie3, and User:Zhenkang.
Conventions
North-south has odd numbers, east-west has even numbers. Loops are open for interpretations.
Please keep routes within 20 km (1 hour trip, according to this article).
All stops should be named. Do NOT leave placeholders.
Street stops are named in [Street it's on] / [Intersecting street]. Landmarks are rarely used.
Stops near metro stations are named in [Name] Station [Letter] or [Name] Stn. [Letter].

The [Letter] indicates which "platform" is used in the same terminal, usually 1 letter (A~Z). The only exception is Worldport (A1, A2, B1, B2...).
In some cases where there are multiple stops near a metro station but ones are significantly further than others, [Name] Station ([Street it's on] / [Intersecting street]) can be used, for example Manalah Stn. (Lamong / Manalah).
---
3-digit routes by User:Austinhuang are gridded and arranged in the following way. Note that this is quite ambiguous and is open for interpretations, it's not a rule.

North-south routes (odd) range from X01 (Oziato) in the west to X33 (Dacona Ranch) in the east.
East-west routes (even) range from X20 (Pease) in the north to X34 (Koquino Hills) in the south.
Routes with the same last 2 digits tend to be linked together.
Route neighborhoods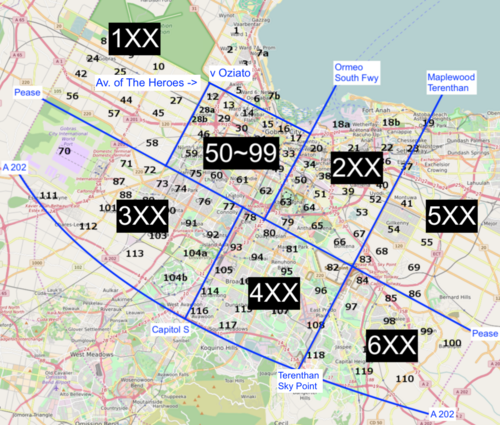 11-49 - Downtown and Mainline routes
50-99 - Inner Suburban and Mainline routes
100-199 - Neighborhoods 1-10, 24-27, 42-45, 56-58
200-299 - Neighborhoods 18-23, 35-40, 50-53, 63-67, 79
300-399 - Neighborhoods 70-77, 87-92, 101-104, 111-113
400-499 - Neighborhoods 78-82, 92-96, 104-107, 114-117
500-599 - Neighborhoods 19, 23, 37, 41, 53-55, 67-69 and Eastern (and northeastern neighborhoods)
600-699 - Neighborhoods 82-86, 96-100, 107-110, 118-119
700-799 - Neighborhoods south of Bangerter Highway
Route Descriptions
Use the public transport viewer to see existing routes and help plan for future ones.
(Note the list below is outdated)
Legends
Existing route
(Planned route, will be mapped in near future)
<Reserved route along undeveloped region>
Routes 11-49
~~(Route 10 - Gobras / Oziato (OL ~ GCD))~~
Routes 50-99
Routes 100-199
(Route 1?? - Sapphire - Prom North)
(Route 120 - Sapphire - Angus Verneeui)
(Route 1?? - Wairina/Varain)
(Route 187 - Nainani - Wynot)
Routes 200-299
Routes 300-399
Routes 400-499
(Route 420 - Pease)
(Route 422 - Edisto)
(Route 426 - Tramonton / Lhatolly)
Routes 500-599
<Route 512 - Charles Leroi / Auberwoon>
(Route 514 - Fort Anah / Patagas)
<Route 518 - Constitution>
<Route 520 - Colonel Gerhard Kinser>
<Route 529 - Fermont / Pohalashee>
<Route 533 - Dacona Ranch>
Routes 600-699
<Route 631 - Tandel>
<Route 633 - Sterling>
Routes 700-799
Light Rail
A citywide light rail (tram or streetcar) system does not currently exist.
The Arena Tram links the sports facilities in the Arena area with parking, residences in Sportstown and Lamme Media City. It interchanges with mainline rail and subway lines 1 & 6 at Arena Railway Station and subway line 3 at Media City station.
There is a "legacy" streetcar line "G" (Gallitania Line) running the length of Gallitania Avenue from just west of the capitol, through Gohantown and Ooquabar flats to the eastern edge of the "Reservation Plantation."
See also