OpenGeofiction talk:Antarephia
Jump to navigation
Jump to search
Northeastern Antarephia - January 2023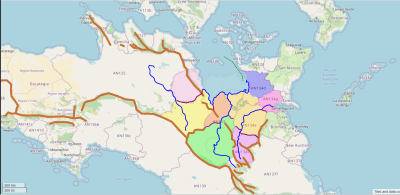 The green-dashed line is a possible relocation of some of the small island territories of NE Antarephia (Shown on the map after implementation)
Existing Lycian coast is pushed south (The sea has been left slightly transparent so that the original location is still visible)
The partly new mountain range (mountain ranges are in brown) that crosses purple, yellow, orange, green and re-purple territories is meant to be a "lesser" branch of the main transcontinental mountain range. This idea is to have high plateaus south of it, a bit like in the US Southwest or Mendoza Province in Argentina, as they have similar latitude and exposition, and provide mappers with similar OGF locations.
The large lakes in the apricot territory are meant to be deleted as they don't serve any purpose anymore.