Collab:Taukan
Jump to navigation
Jump to search
This page is dedicated to the design of the Taukan article that focus on both the Taukan language family and the Taukan ethnic groups and culture.
Introduction
The Taukan Project is an attempt to create a cohesive story for Central Antarephia by establishing a set of agreed upon historical, linguistic, geographic, and cultural facts. This forms a framework which mappers can use to connect to a wider accepted history, while still allowing flexibility when describing and mapping their own territories. The main goal is to create a story that makes sense, as much as is possible.
The Taukan Project only applies to voluntary members and their territories, although the hope is that additional mappers will join in this shared history, and that it might expand to other parts of the OGF map.
Generalities
The Taukan Collaboration focuses primarly on Central Antarephia, on both sides of the continent. The Western Coast becoming dryier to the North, S35th/30th parallels would be a natural limit for the Taukans extension to the North. East of the main Antarephian mountain ranges, the Taukans come into contact with peoples speaking Antarephian languages. This does not preclude any form of mutual influence on cultural, historical or linguistic topics with the latter.
Countries
Below is the list of countries that are part of the Taukan Sphere, culturally and/or linguistically, and form part of the collaboration:
Naming
Taukan from the old Taukan root tauka implying an idea of bond or meaning those who are bound by an oath. This name may have been apply by the early Taukan tribes upon themselves as they constituted some kind of loose federations.
General History
Paxtar was a country and owned territory spanning roughly over AN139, AN136c, d and e. In the below sections, its mention would be adapted
Origin of the Taukans
The Taukan cradle is thought to be located in what is now northern Sabishii in Paxtar. Archaeological remains of a neolithic culture unearthed near the bank of the Şibār River are the oldest remains of human presence to be found in the region. This population expanded south towards the coast and left artefacts, mainly pottery and post-holes where settlements had been located. This area is considered to be the original homeland of the Taukan culture. In a series of migrations they spread west along the coast, reaching modern-day Guai during second millennium BCE. In a later migration a group moved east across the central Antarephian mountain range to the Asperic coast, reaching Ullanyé around 500 BCE. They spread throughout central Antarephia, merging with preexisting cultures they encountered.
Taukans migrations
Southern & Eastern migrations
Around 1500 BCE, Taukan tribes had colonised most of today's Paxtar. A first group migrated over the XXX Pass over to the Large Northern River Plain, passing through territories inhabited by Sabishian populations. Over the next 5 centuries, Taukan populations spread alon the rivers and the Asperic Coast of AN137f and AN144 Territories. Around 800-700 BCE, a second group of Taukans left Southern Paxtar and reached AN142i Coast and moved up the Large Yellow River Plain. They met the first in what is today's the AN148 Territories. Despite cultural and linguistic influences, the south-easternmost tribes of the second group were slightly less affected, giving to today's AN148, AN152b, Ullanyé and Osaseré, their distinctive Taukan flavour. By the 4th Century BCE, Taukans had crossed the Trinity Strait over to Ullanyé and by the end of the 1st Century, Dyákunda and Moda Benyé Civilisations had completely merged with the dominant Taukans.
Western migrations
Taukan tribes that have been established on Gonfragerran coast, started to move westward, reaching Guai between 2,000BC and 1,000BC. Some of these tribes' name are known as they kept written archives of some of their activities (namely, trades and political decisions). Their Abugida writing system has been in use until the late 17th when Romantian alphabet superseded it completely. By 500BC, the indigenous Kaitese people had completely fused with the Taukan tribes, leaving some oronyms and hydronyms still existent, and agricultural techniques previously unknown to the Taukans. Taukans organised themselves in a set of city-states usually ruled by a council of the elders. These city-states are usually divided into those based agriculture and/or mining, and those dedicated to trade by sea or land routes. This period, lasting from 500BC to 200 AD, is known as the Silver Age.
Early Modern and Modern History
Timeline
General Culture
Urbanism
In most countries, settlements tend to be rather European-looking. Historically speaking, a lots of Taukan cities and major towns were built around three plazas, sometimes called the 3 circles, the 3 fires or the 3 cores depending on the country and culture:
A commercial plaza for a market that had traders, town houses for the rich, closest to the town port in case the town has one.
A governmental plaza for official gatherings and announcements with law courts, town halls, central in the town.
A plaza for the plebs with religious buildings, bathhouses, food, entertainments
In some countries or places, plazas 1 and 3 are merged.
Sport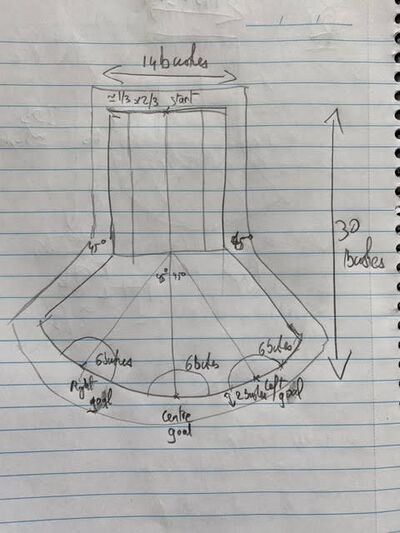 The following discipline was once extremely popular but is now a secondary discipline on most Taukan countries. The idea behind designing a new sport is to map something distinctive in our countries. We thought about something that could easily played, loosely inspired by Azteca and Basque pelotas. The sport is named Rapu in Guai and Rabú in Ullanyé. The pitch is strongly inspired by the "R" from Tenibri scripts and it size is loosely based on Box Lacross pitch: not too big, not too small. It is 30 bushes long and 14 bushes wide (56.1x26.18m). The corridor occupies half the length (15 bushes). On its bottom end is located the centre of the the bottom circle, cropped at 45° from the corridor's width. Side goals are placed at 45° from the centre line as well. Additional lines are present: 6 bushes around the goals (To be honest , just the rough distance between two points generated when creating the circle), and 2 vague 1/3 2/3 parallel lines in the corridor (same, picking closest distance between on the circle having the corridor's width as diameter). Supposedly one team starts at the top end and tries to mark by throwing a ball of some sort in/on one of the goal (is it a cage, a rod, a loop?), supposedly x on the centre one and y on both side ones, the other team trying to block them and throwing the ball back to the start point. "Official" measurements are given in the traditional Taukan system of measurements.
You may find examples of pitch or stadium below:
Beliefs and rituals
Traditional Taukan beliefs are often regarded as a nature religion or an amalgamation of religio-philosophical traditions, although in most cases, they do not consist in an organised religion. Varying from place to place, their practitioners tend to believe in spirits, souls or power of places and beings. In some version of these beliefs, the universe is alive, aware but indifferent. They believe that believe that the natural world, and all living things within it, should be respected, otherwise the universal balance would damaged.
Shrines or temples exist mostly near bodies of water or springs, deep woods, cave and remote hills and mountains were believers or not can spend a short contemplative moment or a longer retreat.The shrines are generally located in scenic spots of natural beauty or seclusion, with the larger and more accessible ones favoured for weddings and funerals. Some local version of those beliefs (e.g. Ohoism in Guai) think that it is some form of self-obligation to more or less regularly visit those scenic spots: seeing natural beauty, watching water running away are thought to appease the mind, clear problems away and to contribute to universal balance.
A lots of Taukan temples have a circular shape or include a circle somewhere in their architecture (e.g. round courtyard, garden). A 2000-year-old example can be found east of Cacamarr, Ulannyé. Kimí Tauka or Summit of the Biding is a stone circle with an associated spring estimated to have been erected around 500 CE. Kimí Tauka was classified as a Historic Site in 1897 and as a Cultural Monument in 1983.
Spirituality and traditions
Taukan spiritual concepts
The Eight Virtues are traditionally listed as: Courage, Rectitude, Benevolence, Loyalty, Diligence, Humility, Temperance and Respect. Originally, they were expected from those who ran the city or state, but over the time, they have been taught as basic virtues of any person of integrity and honour.
Circle or circles usually represent perfection and plenitudes but can also relate to the old idea of tauka that implies an idea of bond or meaning those who are bound by an oath. This name may have been apply by the Taukan Peoples upon themselves as they constituted some kind of loose federations.
Celebrations
Remembrance of the dead is usually observed sometime after the autumnal equinox. In Guai this day falls on the first Thursday of April.
This celebration is particularly meaningful in Northeastern Taukan regions affected by dryer summers and sometimes droughts. It celebrates the first heavy rains after summer. In Guai, this day falls on the Friday following the Remembrance of the dead day (falls on the Thursday). Rain or water in general is though to purify the mind and to take the sorrow away.
In Paxtar, this day is celebrated as New Year Day
Wattle blossom day is an important Winter celebration in Northeastern Taukan regions. One species of Wattle has its flower as the national flower of Guai or hāni. This day is traditionally observed early or mid-August, depending on the region.
This day is celebrated in Guai and Paxtar.
This day is observed in Guai on the first Monday of October.
Summer Day is traditional observed in Guai on the first Monday of December.
Folklore
Below is listed a small sampling of types and examples of verbal lore:
Aspra mythological shield that threw projectiles back at the attacker. The story seems to originate from the Kaitese People Mythology as this concept is not found in contemporary Taukan culture. Long forgotten, its popularity rose at the time the Taukans came in contact with Ulethan colonists and its fame spread across the Taukan culture sphere. Aspra can be manned only by those demonstrating the Eight Virtues
Kidjo & Cilia (usually transcribed as Keejoe & Sheilia in Ingerish) are a pair of swans living on a pond, filled with water so pure it gives immortality to the purest souls who drink it, yet it induces envy and frustration to the others. The pair, of an undefined colour, can speak and is endowed with immortality, implying their souls are the purest.
The pair is approached by a human couple that lives nearby. Unaware that human souls can never be completely pure, Kidjo and Cilia offer them water and other gifts, and start teaching them how to speak. Days after days, the swans become more and more colourless (whiter and whiter in some versions) as the humans become more envious of the swans' gift (which is the ability to speak), and display eagerness to learn more and more.
Meanwhile Kidjo and Cilia lose their own ability to speak to the point that even their own names become those of the two humans, unnamed until then. Furious at mankind, the swans retreat and, from then on valiantly defend their cygnets against any human intruder as they do not trust them anymore.
By the end of the story, Humans know how to speak but are envious, easily frustrated and usually do not know what to do with this ability apart from being slanderous.
In Guaiian, moho kidjo or swan tear means to mourn for something dear one has lost without having fought for. Moho Kidjo is also a highly alcoholic spirit produced in the Táriao Upland (southern Guai). Moho Kidjo is transparent with a light blue hue, and its sale and consumption were severely restricted during most of the 19th and 20th centuries.
Kidjo (/'kidʒɔ/) is cognate with Guaiian kidj (/'kidʒ/ - seven) and Olonyé kidynó (/'kidʒo:/). The root /k/+/dʒ/ conveys some meaning of speaking or causing someone to speak. In old epic poems, phrases such as "open my lips" are frequently affixed to Kidjo or kidj (number seven).
The swan is the national bird of Guai where it is admired for its natural grace and its fierceness to defend its kind.
A spirit whose name is roughly translated as "the one who does not look exactly similar" and features in several Taukan mythologies. Kirakó often acts as a guide, adviser or judge and many of the tales revolve around the spirits obscure oracular pronouncements. It is associated with nocturnal animals, especially owls, and often frequents pools, hillsides and high places. It has many physical forms and is rarely described in the same way twice. A central motif of the Kirakó stories is that human protagonists are unable to recount in any great detail what the spirit looked like.
In Guaiian versions of the lore, Kirakó (/kiɾa'kɔ/) is most exclusively associated with owls, especially the white-faced barn owl, living by a pool or the entrance to a subterranean spring, whom the hero or heroin is due to come visit at night or happens to encounter. In these encounters, Kirakó, sometimes acting as a guide, always tells the very truth. The rub lies in Kirakó's rather oracular parlance that is usually misguiding. The hero runs from mishaps to tragedies and sometimes dies by the end of the story. The moral of the story is usually understood as beware of well-intentioned beings or beware of the interpretation one gives to others' words.
The meaning of the -ko ending has been lost. On the other hand, ki stem usually conveys the idea of to see, to look or to resemble, and -ra is a negative suffix. Given its behaviour in the Guaiian versions and in addition to "the one who does not look exactly similar", Kirakó is also understood as "the one who does not see the same things/same way", implying the bird is blind, clairvoyant or see the same things but in a different way. The quirk of this story was extremely popular during the 19th century, at the height of the Romantic era, to the point that women started wearing jewellery pieces that depicted Kirakó, usually with gems such as moonstones set in silver.
Mona is the story of a kind-hearted mother Raven. In Guaiian, the raven's name is spelt Mw̄na (/'mo:na/). Both Mw̄na and Erói(/e'ɾɔj/), Guaiian for raven, have remained popular female and male first names.
Literally, 'stars in his back' is a mythical being from early Ullanyé religious tradition understood to act as a mediator between the conscious and unconscious mind or dream-state. He is one of the Fading Band who are believed to influence the course of a person's life. Tasóndy usually appears as a marine mammal in the myths, occasionally as a dolphin but more often as a one of the larger whale species. He is strongly associated with the sea, sailing and fishermen. The Sindyé Tasóndy is named after him.
Taukiri, also known as the Weeping or the Mourning Maiden, is popular tale originating on the coastal regions along The Koropiko bay. From place to place the plot varies but the popularity of the tale has inspired poets', novelists' and composers' works along the centuries.
Traditional system of measurement
The "need" arose when the traditional sport pitch was designed. Guai replaced this system sometime between the 1870s and the 1910s by the metric system.
| Name | Explanation | SI equivalent | Imperial equivalent |
| --- | --- | --- | --- |
| 1 finger | finger width | 1.3cm | 0.51in |
| palm | 4 fingers | 5.2cm | 2.06in |
| head | 3 palms | 15.6cm | 6.14in |
| "specific type of bush" | 12 heads | 1.87m | 6.14ft |
| field | 60 "bushes" | 112.32m | 368.50ft |
| mile | 10 "fields" | 1,123.2m | 3,685.04ft |
| league | 4 miles (1h walking) | 4,492.8m | 14,740.16ft |
It is unclear, for the moment, which bush is considered. It could also be named rod or stick or anything 1.87m high or long for people living some 1,000, 2,000 or 3,000 years ago in Central Antarephia.
Languages
Classification
Basic features
Taukan languages have a number of shared features across all languages:
Taukan languages are mostly analytic.
Taukan languages have a fairly strict subject–verb–object word order.
Verbal inflection is rather limited.
Modality is expressed using modal verbs. Modal verbs are prefixed to the verb in some language subgroups.
Taukan languages are genderless languages but use prefixes when gender indication is necessary.
Dyadyé languages
Dyadyé languages is a subgroup of the Taukan languages which includes Olonyé, spoken by around 6 million native speakers in Ullanne.
Gonfragerran languages
Gonfragerran languages take their name from the Paxtaren Province of Gonfragerra.
The definite article is not in use in the languages belonging to the Gonfragerran subgroup but suffixes are used to indicate plural notion. As in other Taukan subgroups, verbal inflection is limited. Tense is usually conveyed by a limited set of uninflectable suffixes, whereas mood is expressed by apocopated modal verbs prefixed to the verbal stem.
Kaitese languages
Kaitese languages take their name from River Kaita. Their main division are between Continental and Peninsular Kaitese languages.
All Kaitese languages make an extensive use of auxiliary verbs to convey both tenses and modality. The vocabulary contains a lots of pre-Taukan elements, mainly concerning agriculture and some natural features. The main differences between Continental and Peninsular Kaitese are:
Peninsular Kaitese dialects: in the absence of nominal inflection, number and definiteness are convey by article, the use of inflected prepositions, the amount of pre-Taukan vocabulary compared to Continental dialects
Continental Kaitese: extinct Old Iapan did not know definiteness article but used suffixes to convey number. Karnakian makes a limited use of articles for definiteness and keeps suffixes for number.
Peninsular Kaitese are furthermore divided between western and eastern dialects. Apart from minor vocabulary and grammatical differences, the grouping concerns phonology differences such as the lenition of western [ks] sound into eastern [s] or [z] sounds. For example, standard Guaiian eks (six) is esè in Taupan and Kinaran. Paxtar is Pasdār (/pas'dɑ:ɹ/) in Guaiian because the relation with this country was carried on by the eastern Guaiian Thalassocracies.
Cognates
Cognate
Guaiian
Olonyé
Tenibri
/'kinib/ - KEE-nib - /wɔɾ/ - war
area that freezes. From /'kinib/ area or scope, and /wɔɾ/ to freeze
uor means frost in Guaiian
kinvar
/'kinvaɾ/
glacier
kiníbar
/ˈkɪni:'bar/
glacier
/a'wal/ - ah-WAL
to move accross/through or to move forward
From /'awa/ meaning "across, on the far side, beyond"
avál
/a'val/
ford
abálú
/abɔːɭu:/
fjord
/ɔ'lik/ - aw-LICK
to gather/to assemble
From /lik/ conveying the concept of "being together"
àlik
/ʌ'lik/
village
ulik
/ʌˈlɪk/
city
ūlūç
/uːluːç/
town
/im/ - im
forehead or vertex
Im still means forehead in Guaiian
imaj
/'imaʒ/
headland
imás
/ɪmɔːʂ/
mountain
imot
/ɪmot/
mound
/kaj/ - ki
to flow

oka
/'ɔka/
stream
okâ
/ɔkɔː/
river
oclát
/okleːt/
stream
/'kɔdik/ - KAW-dik
that which joins
From /'ɔdik/, to join, and causative prefix k-
kodi
/'kɔdi/
lane
kodik
/ˈkɔdɪk/
lane
pācod
/pɔkod/
boulevard
/'pantjaran/- PAN-tya-ran
to enclose/to pen/to limit
Guaiian pantiar (prison) and bandiar (pen) derive from the same root
banda
/'banda/
border
bandyá
/ban'dʒɔː/
boundary
pāŋje
/pɔŋdʒɛ/
close
/pa'rajk/ - par-RIKE
constricted

barj
/baɾʒ/
narrow
beraig
/bɛr'eɪg/
narrow
/sɔjd/ - soyd
to flow/to run

cuod
/ʃwɔd/
canal
chúhád
/tʃuː'hɔːd/
stream
/'sufuθ/ - SOO-footh
heat/flame
Guaiian cif (fire) and sufuth (blaze) derive from the same root
cufè
/'ʃufə/
hearth
sufú
/ˈʂʌfuː/
house
/tɔb/ - tob
high/to be high
The root is also found in Ullanne District Caztobal
dova
/'dɔva/
hill
dobâs
/dɔbɔːʂ/
hill
cobā
/kobɔ/
hill
1
aiem
/'ajem/
service
ayemah
/ajemah/
serve
2
alka
/'aɫka/
tower
aluchí
/aɭutʃi:/
tower
3
atūl
/a'tu:l/
vegetable
atúl
/aʈu:l/
green
4
avauc
/'avawʃ/
wealth
abos
/aboʂ/
wealth
5
bahīr
/ba'hi:ɹ/
cove
ebahirí

bay/cove
6
balw̄
/ba'lo:/
silver
rabalól
/ɽabalo:ɭ/
silver
7
bidji
/'bidʒi/
factory
bídyín

factory
8

Guaiian duyj (gold) derives from the same root
cèdūk
/ʃə'du:k/
treasure
sadúek
/ʂadu:ˈɛk/
gold
9
cireij
/'ʃiɾejʒ/
general
chiraig
/ˈtʃɪr'eɪg/
wide
10
cyb
/ʃɛb/
dirt
seb
/ʂeb/
grey
11
dasój
/da'sɔʒ/
whale
tasóndy
/ʈaʂo:ɲdʒ
whale
12
dekama
/de'kama/
promontary
dekama

promontory/ridge
13
djom
/dʒɔm/
health
dyáhom
/dʒɔː'hom/
well
14
djyr
/dʒɛɾ/
pale
dyer
/dʒer/
white
15
edrala
/ed'rala/
aquamarine
edrala
/ed'rala/
cyan
16
eigyb
/'ejgɛb/
quay
meraigebí
/mɛr'eɪgɛbi:/
quay
17
eináv
/ej'nav/
leisure
enyabó
/ɛɲa'boː/
leisure
18
emē
/e'me:/
sky
mek
/mɛk/
blue
19
ēnia
/'e:nja/
hut
eiane
/ˈeiɳe/
shelter/hut/tent
20
famí
/fami/
turquoise
fomí
/ˈfɒmiː/
turquoise
21
fid
/fid/
way
fídyó
/ˈfiːdʒoː/
way/pass
22
fobin
/'fɔbin/
shop
fábinú
/fɔːbɪnu:/
commercial area
23
four
four
base/camp
fór
/ˈfoːɽ/
base/camp
24
fugū
/fu'gu:/
mouse
fugú
/ˈfʌgu:/
mouse
25
gie
/gje/
police
gí
/gi:/
police
26
isō
/i'sɔ:/
archipelago
isá
/ɪˈʂɔː/
island
27
iwnerw
/jo'neɾo/
plain
yoneró


28
kadia
/'kadja/
institute/agency
kadyas

agency
29
kadẃ
/ka'do/
lagoon
kadú
/kadu:/
lagoon
30
kàe
/kʌ'e/
data
kue
/ˈkʌe/
data
31
kas
/kas/
shield
gasa
/gaʂa/
shield
32
kēbem
/'ke:bem/
harmony
tukebem
/ʈuˈkebem/
harmony
33
kidjo
/'kidʒɔ/
male swan
kidynó
/ˈkɪdʒo:/
swan
34
kukw
/'kuko/
market
akukos
/ˈkukoʂ/
market
35
kūr
/ku:ɾ/
pond
kuré
/ˈkʌɽeː/
pool
36
makle
/'makle/
kernel/nuclear
mekalén

centre
37
noo
/'nɔ.ɔ/
settlement
ná
/ɳɔː/
settlement/homestead
38
ono
/'ɔnɔ/
plaza
anyó
/aɲo:/
place
oco
/oko/
place
39

Orid means blood in Guaiian
ōr
/ɔ:ɹ/
red
orid
/ˈɔɽɪd/
red
ordiç
/oɹdɪç/
red
40
oros
/'ɔɾɔs/
memorial
oros
/ˈoɽoʂ/
marker/memorial
41
pūskel
/'pu:skel/
volcano
'


pūscel
/'puskel/
volcano
42
rada
/'ɾada/
brown
rada
/rada/
brown
43
ramú
/ɾa'mu/
education
ramú
/ra'mu:/
school
44
recēgon
/ɾe'ʃe:gɔn/
hospital
reséregunyé
/rɛʂeːˈrɛgʌɲeː/
hospital
45
rekigí
/ɾeki'gi/
production
rekigi
/rɛkiˈgi/
industry
46
rimā
/ɾi'mɑ:/
beach
orimá

beach
47
rod
/ɾɔd/
lake
irody
/ˈɪɽɔdʒ/
water
rod
/ɾod/
water
48
ronós
/ɾɔ'nɔs/
ridge/spine
ronás

ridge/shin
49
rwu
/ɾow/
childhood
ró
/ro:/
children/descendants
50
saca
/'saʃa/
sister
echasa
/etʃaʂa/
sister
51
sīj
/si:ʒ/
forest
isig
/ɪˈʂɪg/
wood
siç
/sɪç/
tree
52
sonie
/'sɔnje/
lamb
sunyed
/ˈʂʌɲɛd/
lamb
53
tce
/tʃe/
hole
deché
/deˈtʃe:/
hole
54
tcydj
tʃɛdʒ
horse
chedyedy
/ˈtʃɛdʒɛdʒ
horse
55
thos
/θɔs/
opening
tos
/tɔʂ/
gate
tosrine
/tosɹɪnɛ/
cave
56
tis
/tis/
sub-
etis-
/ɛtiʂ/
under/below/sub-
57
tondia
/'tɔndja/
nature
tondya

wild
58
tūf
/tu:f/
fox
túfar
/tu:far/
fox/dog
59
wabe
/'wabe/
tern
urabé

tern, a species of
60
ugero
/u'geɾɔ/
plant
ukeró

tree
61
wból
/o'bɔl/
daughter
ubál

daughter
62
ycok
/'ɛʃɔk/
farm
esuk
/ˈɛʂʌk/
farm
resdūç
/ɹɛsduːç/
land
63
yl
/ɛl/
dock
el
/ɛl/
lake
elc
/ɛlk/
lake
Sound changes
As an attempt to systematise the forming of words when borrowed from one language to another, I have listed the following "rules". As I did not pay too much attention when borrowing from Olonyé to Guaiian, these rules are not always respected but listing them may prove to be useful for future creations:
| Rule | Sound | Proto-Taukan | Guaiian | Olonyé | Tenibri | Guaiian example | Olonyé example | Tenibri example |
| --- | --- | --- | --- | --- | --- | --- | --- | --- |
| 1 | syllable | | stressed /w/ | stressed /ur/ | | uabe | urabé | |
| 2 | vowel | /ɔ'lik/ | unstressed /ʌ/ | unstressed /ʌ/ | unstressed /u/ | àlik | ulik | ūlūç |
| 3 | syllable | | stressed /ge/ | stressed /ke/ | | ugero | ukeró | |
| 4 | consonant | | initial /θ/ in monosyllables | initial /t/ in monosyllables | initial /t/ | thos | tos | tosrine |
| 5 | consonant | | unstressed /dj/ | unstressed /dʒ/ | | tondia | tondya | |
| 6 | consonant | | mostly stressed /ʒ/, sometimes stressed /dʒ/ | stressed /dʒ/ | | dasój | tasóndy | |
| 7 | consonant | /'sufuθ/ | mostly /ʃ/ in monosyllables or unstressed syllables. Sometimes /ʒ/ | /ʂ/ | /t/ | cif, imaj | sufú, imás | imot |
| 8 | vowel | | syncope | unstressed /a/ in penultimate syllables | | dje, makle | hadye, mekalén | |
| 9 | consonant | | /gj/ in monosyllables | /g/ in monosyllables | | gie | gí | |
| 10 | consonant | /pa'rajk/ | /ʒ/ | /g/ | /ç/ | barj, sīj | beraig, isig | ciç |
| 11 | consonant | | many /g/ | many /k/ | | ugero | ukeró | |
| 12 | consonant | | many /k/ | many /g/ | | kas | gasa | |
| 13 | consonant | | metathesis /l/ for /ɾ/ or reversed | metathesis /l/ for /ɾ/ or reversed | metathesis /l/ for /ɾ/ or reversed | lyg, Karmelóm | reku | Cälmelom |
| 14 | syllable | | diphthong /ɔw/ | long /o:/ | | four | fór | |
| 15 | syllable | | syncope of some unstressed initial syllables (prefixes that do not exist in Guai?) | | | saca | echasa | |
| 16 | vowel | | stressed long /e:/ | stressed diphthong /ei/ | | ēnia | eiane | |
| 17 | consonant | | /ʃ/ | /tʃ/ | | cireij | chiraig | |
| 18 | consonant | /a'wal/ | /v/ | /b/ | | avál, dova | abálú, dobâs | |