Collab:Deodeca/Ingerish Asperia
Jump to navigation
Jump to search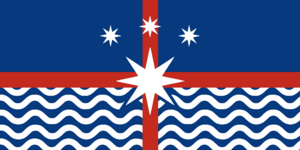 The Province of Ingerish Asperia is a closed collaborative territory in northern Deodeca. It is inspired by the southeastern region of Australia, and the mountainious terrain of NZ's south island. It will feature 4 major cities (designed in an Australian/Canadian style) along with other, smaller cities, and mostly rural regions beyond that. The variety of geography will provide mappers with a wide range of opportunities.
By being a part of Ingerish Asperia you can help decide on the province's:
Names of major rivers
Names of major lakes
Names of major mountain ranges
Design of the state capital
Numbering and naming plan for state freeway system
Numbering plan for other state highways
Designs for state route shields and signage
List of famous state historical figures
(as a resource for naming things)
Information
Ingerish Asperia has a population of around 6-7 million, the majority of whom live in the urban areas of New Reydon (state capital) and Stonesipher. Other population centres include Baptist Bay and Ingerfort.
The following gallery showcases the base plans for the province. Click on each image to learn more.
The first map shows the overall topography of the province (indicated by the mountains) and the hydrology of the province. Mappers wishing to collaborate in a county or city area should take these geographical features into consideration.
The second map shows the human geography of the province and the major roads/railway network. Some aspects of these are subject to change.
The third map shows the administrative layout of the province, which is used for the in-world counties/districts and for the project's assignment of areas for mappers.
The west coast will be akin to the west coast of New Zealand (https://www.openstreetmap.org/#map=11/-41.6247/171.9141), isolated, underpopulated, and much more natural.
The east coast will be more like the coastal plains of south eastern Australia, such as here https://www.openstreetmap.org/#map=10/-38.4837/146.9188.
Climate-wise, most of the region falls under Köppen type Cfa (Humid subtropical climate), and more elevated parts under Cfb (Temperate oceanic climate).
Special Regions
Please do not create cities with more than 50,000 people. These must be discussed with the coordinator. Any edits one wishes to make to guide map can be discussed with the coordinator.
New Reydon
New Reydon will be the provincial capital and largest city of Ingerish Asperia and will be based off Melbourne, Sydney, and Canberra. The total metropolitan population of the city will be around 1.5 million.
The way cities in IA will be organised is still being worked-on. Eventually, a system similar to the one in Agawaskway will be in place to facilitate coordinated efforts between mappers in major urban areas.
Stonesipher
Stonesipher is the second-largest city in the province. It will be very similar to a Vancounver-type city, given that it is seperated from the rest of the east coast by the central mountain range. It will be a mix of Canadian and Australian urban influences.
Other Population Centres
Other cities may be mapped as per contributors' wishes, following a well-educated population guess. Smaller cities and towns should not exceed 50,000 people.
Map of Subdivisions
Contact and Getting Involved
If you are interested in participating in this project, please contact the coordinator, outlining the general area of the province you want to work in, as well as the inspiration you will take for that area. Regardless of your area of interest, you are mostly free to edit in other parts of the state, ensuring that there is no interference with others' mapping, or already-established mapping in the area.
Anyone with an interest in the region is welcome to join the project. Though you are not bound to any single area, you may request to focus your efforts on, and reserve a part of the province, allowing you mostly free rein within it, given certain population bounds and not deleting major highways and railways. Any counties "reserved" in this way will be noted on a list below. Other contributors should not edit within these reserved areas.
| Username | County (or part of a county) | Notes |
| --- | --- | --- |
| | | |
| | | |
| | | |
More sections will be added to this page as the project develops.
Point Person
Any questions, comments, pieces of advice, or requests to join this project can be directed to User:Arlo via OGF message.
Contributors
| Username | Area of Interest | Notes | Since |
| --- | --- | --- | --- |
| Arlo | Lampfield County (41), overall | Coordinator | 2022-04-09 |
| iiEarth | Squangit County (25) | Contributor | 2022-04-12 |
| Kengoman | Stonesipher (County 11) | Contributor | 2022-04-12 |
| Lithium | County 17 | Contributor | 2022-04-13 |
| KAB | County 24 | Contributor | 2022-04-13 |
| RhodeIslandWVV | St. Martins County (49) | Contributor | 2022-04-14 |
| | | | |