Collab:Deodeca
Jump to navigation
Jump to search
En español: Collab:Deodeca/ES
The territories of AR060 are not independent countries. They are states within the larger nation of Deodeca.
For territory owners here, declaring "independence" isn't an option, so before requesting a state, please be sure you understand the following points:
Deodeca has no direct parallel to a real-world nation. Deodeca is intended to be a temperate, first-world version of Latin America. While there will still be some pockets of lower-income areas (e.g. favelas), there will also be pockets of high-wealth as well. Deodeca is assumed to have good diplomatic and economic relationships with the neighboring Federal States of Archanta and Ardencia. The predominant language is Castellanese (Spanish), with additional native influences throughout the country as well as minor Franquese (French) influences along the southern border and Effesian Ingerish (American English) along the eastern border.
Teamwork is important. Any decisions about shared questions of economy, history, culture, etc, will be discussed as a team. Geographic coordination is also necessary — for example, every territory owner should be familiar with the sketch map below to help coordinate issues of climate, topography, etc. Before taking any action that affects your neighbor states, you should talk about it with them first.
Have fun! This is a very unique project in an active portion of the OGF world, and one of OGF's first attempts at a major collaborative Spanish-speaking project.
Why should I join?
While it is not a requirement, fluent Spanish-speaking mappers are welcome and encouraged to join. However, we welcome any mappers who are committed to the vision of the project, looking for a collaborative environment to map in, and willing to map in Spanish. Additionally:
you can have more fun working with neighbors who share the same goal as you;
you can experience greater satisfaction seeing your mapping develop as part of this huge megaproject;
you can help make our world more unique and cohesive to help us seamlessly blend the various cultures of South Archanta; and
if you claim a state at the beginning, you can be one of the Founders of AR060, which means you get to discuss and vote on interesting stuff, like:
National flag
Names of major rivers
Names of major lakes
Names of major mountain ranges
Name and design of the national capital
(a collaborative project open to all state owners)
Numbering and naming plan for national freeway system
Numbering plan for other national highways
Designs for national route shields and signage
List of famous national historical figures
(as a resource for naming things)
How can I claim a state?
States may be obtained in several ways:
a.) Mappers who do not own a territory may request a state as their first territory; see: OGF:Territory assignment#North and South Archanta
b.) Mappers who own a well-developed territory may request a state as their second territory.
c.) Mappers who wish to move their mapping to AR060 are highly encouraged to do so, by trading in their current territory for a state in AR060. Technical assistance with the moving process is available.
d.) Mappers who wish to start over are also welcome, as they are free to relinquish their current territory and request a state in AR060 instead.
In addition, the central state of AR060-10 will be a collaborative state that will also include the capital of Deodeca. This state will become available for the general community to request access to as soon as a coordinator can be selected.
Sketch map
The purpose of the sketch map below is to help coordinate planning across the country. Since this land is in the southern hemisphere, the warmer parts are in the north, and the cooler parts are in the south. Bold brown lines represent ridge lines of hilly/mountainous areas; purple lines represent (approximate) Deodeca state boundaries, with a potential major city location (orange star) in each and the national capital (yellow star) in the central collaborative state; and orange lines represent potential transportation corridors. (The precise alignment of the border between the FSA and Deodeca is still being discussed and is subject to change; the boundaries between Deodeca and other nations are not expected to change.)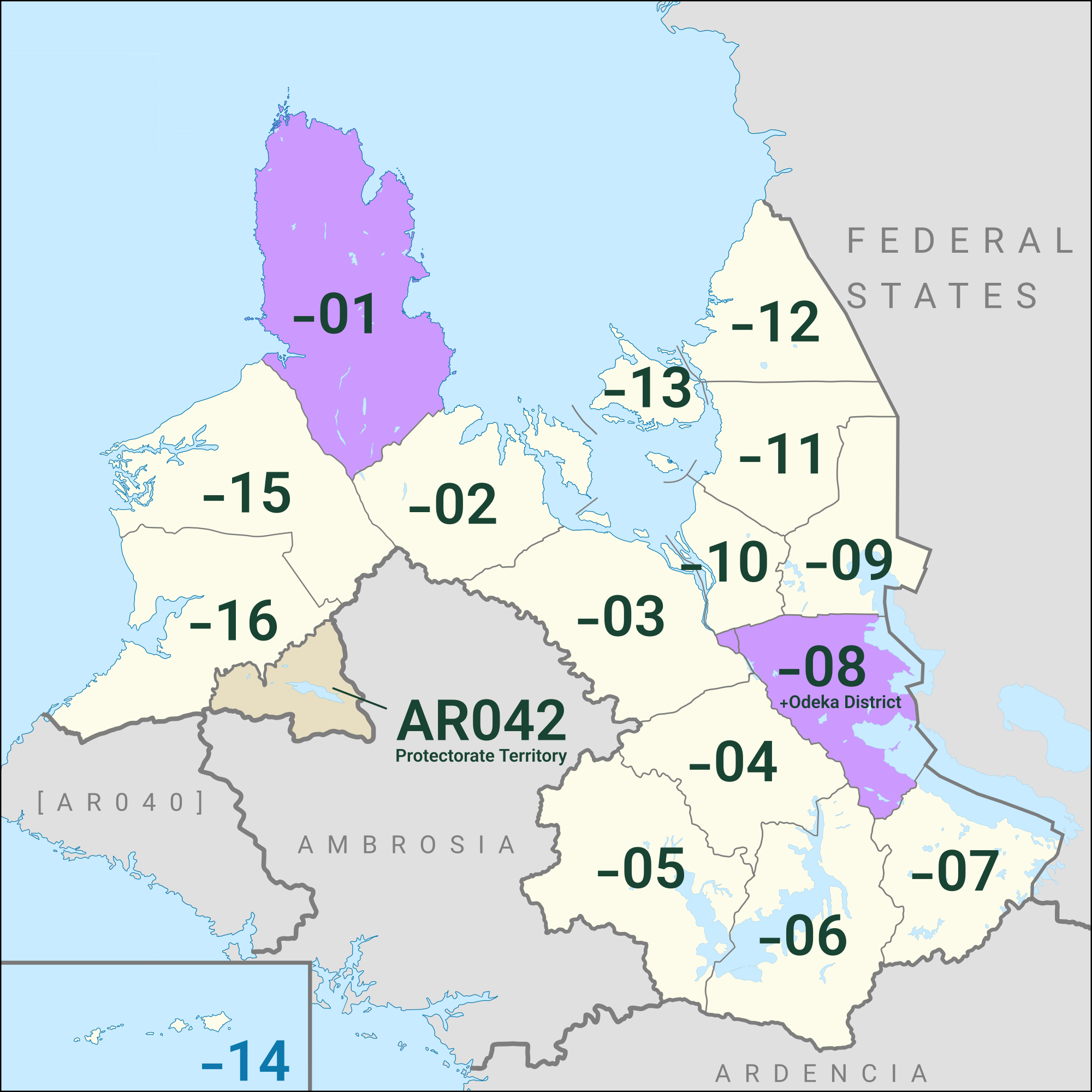 The current general regional consensus for the area is as follows; these assumptions were considered as the current plan for Deodeca was created. The details of this history is subject to change once Deodeca moves to Phase III.
The area was widely settled by indigenous peoples prior to colonization. However, when Castellanese colonists first landed in this part of South Archanta, they were able to relatively easily settle along the coast from AR060-01 through Cosperica to perhaps as far north as Mecyna.
While Franquese colonists were present in the Lakes region of the FSA and Ardencia, there has been not been any major Franquese settlement west of Lakes Amanecer and Betaouais.
As the FSA expanded west throughout the 19th Century, at some point Deodeca became an independent nation. At some point, the FSA negotiated the purchase of what are now the states of Clamash and Wahauja from Deodeca to construct a transcontinental railroad.
Deodeca continues to have peaceful and productive diplomatic and economic ties with neighbors including the FSA and Ardencia.
Management
Phase I
After a few false starts, a committee has been assembled to oversee Phase I of Deodeca. In this phase, a (very) loose plan for the nation was developed to ensure cohesion with the active nations surrounding Deodeca and to officially launch the project. The Deodeca Committee includes the following mappers, which includes admins, FSA and Ardencia coordinators, and some neighboring territories. While the committee is responsible for getting the project up and running, the committee will not be discussing or deciding on "worldbuilding" topics including things listed in the yellow box above.
wangi, as Archanta co-admin
TheMayor, as Archanta co-admin (and owner of neighboring Minnonigan)
Alessa, as wiki admin
Luciano, as site admin
varnel_maiser, as FSA Co-Coordinator (and co-owner of neighboring Nishowigan)
CartographerKing, as FSA Co-Coordinator (and co-owner of neighboring Nishowigan)
newflanders, as Ardencia Co-Coordinator (and owner of neighboring Ambroisie)
Glauber, as owner of neighboring Clamash
Phase II
Once the preliminary plans have been finalized and Deodeca subdivided into states, Phase II will begin. In Phase II, five states will become available for adoption: -08, -09, -11, -12, and -13. Additionally, the collaborative capital state (-10) will open once a state coordinator is identified. New stateowners and the collaborative coordinator will automatically become part of the Deodeca Committee as they enter the project. Once again, the Deodeca Committee's role is to grow interest in the project and keep things moving forward rather than focusing on national issues.
Phase II began with the opening of states -08, -09, -11, -12, and -13 on 8 Nov 2021.
Phase III
Once three of the Phase II states are claimed, Deodeca will move to Phase III. In Phase III, four additional states (-01, -02, -03, -04) will become available for adoption. Once five stateowners are active in the Deodeca project (regardless if the stateowners claim Phase II or Phase III states), the Deodeca Committee will officially disband. Instead, the five Deodeca stateowners (and the collaborative state coordinator) will be empowered to determine the best path forward for the collaborative, including naming a project coordinator and determining how the project should best function collaboratively moving forward. At this point of the process, all collaboration is expected to be done primarily in Spanish.
Project Coordinator Responsibilities
Coordinate regional and national questions among active users - geology, hydrology, infrastructure, cultural institutions, economy, etc.
Make sure that the collaborative ("purple") state is on track, including identifying a new coordinator (with admin approval) if a vacancy occurs.
Keep this and other AR060 Project wiki discussion pages up-to-date.
Keep the AR060 Project visible to the community through periodic updates and discussions on the wiki forums and the User Diaries.
The AR060 Project Coordinator is not responsible for assigning territories - that remains under OGF:Territory assignment.
Phase IV
If Deodeca eventually fills up with active mappers, the final three states (-05, -06, -07) may be made available. While the current plan is for these states to become part of Deodeca in the future, the admin team reserves the right to keep these states reserved indefinitely for other projects or independent nation(s) in the future.
Questions
New users and interested mappers can message TheMayor for more information about the project.