Geklinia-Dregolesia
Jump to navigation
Jump to search
United Kingdom of Geklinia-Dregolesia
Zjednoczone Królestwo Żeklinii-Dregolezji
Поєднане Королівство Жеклінії-Дреголесії (Lechian and Dregolesian)


Capital: Dobrzanka
Population: 12,269,420 (2017)
Motto: Zjednoczneni i niepokonani / Єдиний і непереможений / United and undefeated

---
Geklinia-Dregolesia is a kingdom located in Northern Uletha. It borders

Łany,
Dregovine, Podolia,

Suria, UL14d and UL15i. It has maritime access only through a bay connected to the Great Northern Sea. The country was united in 1915 after the Geklin invasion of Dregolesia. After the unsuccessful 1965 Dregolesian Revolution, the quality of life gaps between Dregolesia and Geklinia started disappearing, which improved relations between both sides. In 1967 an economic union with White Dregovine and Lany was formed, later also allowing free travel between the nations.
History
History of Geklinia-Dregolesia
Before Surian Revolution
up to 1912
• Lechian Invasion of Geklinia
1040 AD
• Lechian-Surian Wars for Dregolesia
1100-1400 AD
• Geklin Independence War
1825 AD
Turbulent Times
1912-1965
• Establishment Dregolesia
March 1912 AD
• Geklin Invasion of Dregolesia
April 1915 AD
• King proclaims himself a dictator
1942
• Unsuccessful Dregolesian Revolution
July 1965
Modern Era
1965-now
• Proclamation of the Union
1967
• Eight Years Plan
1969-1976
• Death of the Dictator
1989
• First partial democratic elections
1998
Prehistory
Early History
Middle Ages
Industrialisation
Turbulent Times
In early February 1912, the Lido-Dregolesian militia captured Mirgorod and Chashavinsk. Not a whole month later, on March 15th 1912, the Republic of Dregolesia separated from Lido under the lead of Oleg Syvirianovich. However, the newly formed state was very unstable and quickly after fell into a civil war. On 11th of June 1912, monarchist forces supported by the Kingdom of Geklinia took control over northern territories, establishing a Kingdom of Northern Dregolesia. 4 days later, on 15th of June 1912, anarchist forces rose up south of Molvaty mountains, but failed to capture any major city. Communist revolutionaries rose up on 29th of June 1912 in the industrialized region of Bir and Mizhrichkavsk. The nationalist government managed to defend the most important cities, including the state's capital - Chashavinsk. On 23rd of July 1912, the communist militia organized the Mezhova massacre, where 298 men were caught, sentenced for treason against the communist regime and murdered. The Kingdom of Northern Dregolesia managed to secure major part of Chashavinsk-Ivaniv railway line, which was crucial for the nationalist army on the coast. The Anarchist army finally managed to break nationalist defences in Rychavsk and captured the city on 31st of August 1912, not long after, they were met with communist revolutionaries coming from the north. Bloody battles took place in the suburbs of the city, that lasted for several weeks, when the anarchists, without much support had to retreat and leave the city on 21st of September 1912.
War with neighbours > United Geklinia-Dregolesia > Plebiscite > Currency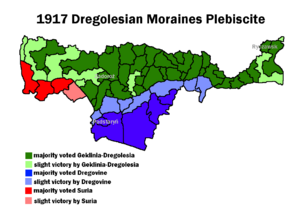 Modern Era
Economy
Economy of Geklinia-Dregolesia
Currency
Geklin-Dregolesian Universa
GDP (PPP)
2019
• Total
410.672 billion $
• Per capita
33,476.6 $
GDP (nominal)
2019
• Total
233.945 billion $
• Per capita
19,070.4 $
HDI (2019)
0.804


very high
Infrastructure
Railways
Geklinia-Dregolesia has a dense railway network. The majority of tracks are owned by a national company, Royal Railway Lines. Services, however, are run by regional operators.
Roads
The road network of Geklinia-Dregolesia comprises six highways, several expressways, and many lower-classification roads.
Airlines
There are six international airports in Geklinia-Dregolesia, two of which (Chashavinsk and Dobrzanka) can handle intercontinental flights. The main airline is GekLines, which also owns Aviakompaniya Dregolot.
Demographics
Demographics of Geklinia-Dregolesia
Demonym
Geklin-Dregolesian
Official languages
Lechian, Dregolesian
Recognized minority languages
Podolian, Zamednovchian

Ethnicities

| | | |
| --- | --- | --- |
| Dregolesian | | 51% |
| Geklin Lechian | | 36% |
| Zamednovchian | | 6% |
| Podolian | | 5% |
| Other | | 2% |

Religion

| | | |
| --- | --- | --- |
| Ortholic | | 74% |
| Ekelan | | 16% |
| Reformed, Protestant | | 8% |
| Imani | | 1% |
| Other | | 1% |

Literacy
98.8%
Life expectancy
77.4 years
Climate
Culture
Sports
Food
Music
Tourism
Government and politics
Government of Geklinia-Dregolesia
Federal parliamentary semi-constitutional monarchy
Capital
Dobrzanka
Head of state
• Król
Kороль
Jakub IV
Якуб IV
• Książe-Delegat
Князь-Дежелат
Stefan III (Geklinia)
Іван V (Dregolesia)
Izydora (Zamednovicha)
• Premier
Прем'єр
Władysław Kowasiuk
Legislature
• Upper house
Elektorium

Major political parties

 

 Konserwatyści / Kонсерваторів

 

 Socjaldemokraci / Cоціал-демократів

 

 Zieloni w ŻD / Зелені в ЖД

 

 Partia Przyszłości / Партія Майбутнього

Nedelica Union