Antarephian Coalition
Jump to navigation
Jump to search
Antarephian Coalition

Map of the Antarephian Coalition Members in Red

Motto:
"Brothers of the Motherland"
Supranational union
Members
Administrative center(s)
Fiork∈⊾
Official languages
 • Secretary-general of the AC
Janaťel Vyrach
Grisean-Thirranic Commonwealth
 • Secretary of Progress of the Union
Anya O'Connor
Kofuku
 • Head Justice of the Union High Council
Iveta Peterson
Kalisänjo
 • Parliament Majority Leader
Kevin Randall
Bromley

Population
 • Estimate (2021)
222,341,890
Timezone
WUT +3, +4, +5
Currency
Antari (Union Currency)

Other national currencies

Gryse̊-Tyranykalěn Yšen (GTK)
Unionist Pound (Bromley)

 (

₳ or ANT

)
The Antarephian Coalition (AC) is a political and economic union of sovereign states on the continent of Antarephia. It was established in 1964 with the economic union of the Grisean-Thirranic Commonwealth & Kofuku to promote continental unity after the Great War. It aims to facilitate free trade and to facilitate freedom of movement of people and goods between fellow member states. Over the years more countries have joined the union. The AC promotes the economic, political, and cultural shares of the entirety of the Antarephian continent. The AC is considered a regional power and the main union for cooperation in Antarephia, nominally the southern and central portions of the continent.
Traveling: Passport controls have been abolished for travel within the AC members. This means that when traveling by land AC citizens do not have to carry their passports. When traveling by air or boat between two member states, they also don't need the passport, but they do need their Identification Card. Border controls are also not necessary in this union. There are some borders that don't respect this, for example the Bromley-Layr border.
Member States
Country
Coat of Arms
Capital
Accession
Population
Area
GDP
GDP per cap
Currency
HDI
No. of Seats
Languages
Notes
Aŭstrasuno Tero
Aŭstraĉefurbo
2001
7,111,000
114,177.103 km²
TBA
TBA
Aŭstra Sunojn (AŭS)
0.810
13
Aŭstro
Bromley
Bromley City
2015
7,612,906
107,876.7 km² (disputed)
$129,987 million
$13,500.13
Unionist Pound (U£)
0.772
14
Ingerish, Holmic, Ostafariuan-Je
Camolia
Galeny
2001
4,014,785
47,071.06 km²
TBA
TBA
TBA
0.880
7
Camolian, Ingerish
Dacategia
Ciudad Dacateca
2016
17,214,891
797,060.61 km²
TBA
TBA
TBA
TBA
31
Castellanese
Geare
2015
4,958,182
162,527.32 km²
TBA
TBA
TBA
TBA
9
TBA
Grisean-Thirranic Commonwealth
Aľatyn, Barran
1964 (Founder)
6,500,000
20,243.42 km²
TBA
TBA
Gryse̊-Tyranykalěn Yšen (ℑ)

AND/OR

Antari (₳ or ANT)

0.933
12
Grisean, Thirranic
Joriskjo
Joratumo-Luusanjo
1974
4,780,000
45,269.29 km²
TBA
$32,410
Antari (₳ or ANT)
0.910
9
Sjepar
Kalisänjo
Sediharaja
2007
29,035,100
224,354.75 km²
$815,770 million
$28,096
Antari (₳ or ANT)
0.824
51
Bjéri, Ingerish
Kofuku
Bako-Huz
1964 (Founder)
11,828,100
353,335.54 km²
$489,991 million
$41,426
Antari (₳ or ANT)
0.913
21
Ingerish & Darrsian
Kuhukli Paka
Aopu Liu
1996
6,056,660
31,157.60 km²
TBA
TBA
Antari (₳ or ANT)
TBA
11
Huipuia Oe
Kwelede-peir
Jeidan
2006
24,000,000
200,000 km²
$398,000 million
$17,000
Šolids (KPS)
0.700
43
Ting planete
Layr
Layrìtyan, Sante Agustìn
1998
9,916,274
20,826.92 km²
TBA
TBA
Layri Lira (L₺) (LYL)
0.698
18
Holmic
Leresso
Aludres
2011
11,149,720
48,102.45 km²
$178,830 million
$16,039
Yerevi rivan (৲)
0.795
20
Yerevi
Liberon
Port Royal
2019
99,521
21,028.98 km²
TBA
TBA
TBA
TBA
1
Franquese
Nalkor-Kochi
40px
Solchuk
1985
8,600,000
30,840 km²
TBA
TBA
Nip (NKN)
0.898
15
Franquese, Estrean
New Austland
Myola
2019
4,738,990
71,393.75 km²
TBA
TBA
TBA
TBA
9
Ingerish
Paravel
Point Fern
2007
18,321,428
350,932.22 km²
TBA
TBA
TBA
TBA
33
TBA
Reaskuskjo
Jorisiluuso
2019
5,500,000
74,057.54 km²
TBA
TBA
TBA
TBA
10
Sjepar
San Marcos
Lucero
1992
34,589,593
251,777.75 km²
TBA
TBA
Marco sanmarquino м (MSM)
TBA
61
Castellanese
Template:Taranrii
Kaselai
2018
412,448
2,149.02 km²
$2,769 million
$6,715
Taranrian Pieri (TIP)
0.612
1
Taranriis, Ingerish
Tárrases
50px
Nuevo Tárrases
1992
390,100
0,246.6 km²
$10,587 million
$27,140
Tarrasean Dinar DT$ (DTD)
0.770
1
Castellanese
Union of the Yersinian Archipelago/Yersinia
Jupuxe
1979
5,512,192
112,121.6 km²
TBA
TBA
TBA
TBA
10
TBA
History
Institutions
The AC institutions headquarters are dispersed around all countries in the Union.
AC Parliament
The AC parliament has 400 seats that are elected every 3 years in the AC elections. Seats are proportionally represented through each member state's population size in comparison to the overall population of the AC, for example: If Kofuku has 5% of the total AC population they choose the parties for 5% of the seats between this options:
 AC Social Democratic & Socialists: (Social Democratic/Socialist - Pro-Antarephia)
 AC Capitalists: (Centre Right - Pro-Antarephia)
 AC Liberal Reform Party: (Liberal - Pro-Antarephia)
 AC Green Party: (Environmentalist - Mixed)
 AC Free Group: (Right/Far-Right - Antasceptic)
 AC Left: (Socialist/Communist - Antasceptic)
 AC Right Reform Group: (Right - Antasceptic)
It is located in the city of Fiork. Inside the Antarephian Coalition Headquarters Complex (AC Parliament Location)
2023 Parliament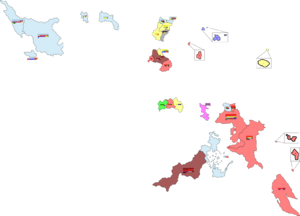 | Year | Distribution | Parties | Notes |
| --- | --- | --- | --- |
| 2023 | | | Current Parliament |
Other elections
AC Universal Healthcare System (ACUHS)
The Antarapehian Coalition Universal Healthcare System (known as ACUHS) is the union's institution in charge of providing free healthcare to all humans inside the AC (no matter if they are citizens of the union or not).
Location: The headquarters of the ACUHS is located in Bako-Huz, exactly in the Sentrum Square. In the corner of Kofuku Avenue and the Diagonal Avenue. Those are the coordinates: South 50.13337 — West 73.04131.
Regulations: The system has some regulations for the healthcare systems of all union countries. First one is to have 3 or more hospital beds per 1000 inhabitants of a country. This means for example that if a country has 1 million inhabitants they should have 3000 hospital beds (approximately 3 hospitals). The next regulation is that all countries must give free access to a patient no matter the nationality or wealth. Also hospitals must give coverage to all the land area of their country. If an area is too mountainous or with population very spread, the closest hospital must have some kind of special method to get there faster (helicopters, planes…)
Programs: The ACUHS hosts a lot of programs to improve the healthcare service inside and outside the AC. Many poor countries outside the AC get helped by the ACUHS. Right now the institution has over 100 humanitarian aid hospitals around the world.
AC Council
The AC Council provides the union with general political directions and priorities, and acts as a collective presidency. It is located in Aragansa, GTK. It takes after a standard parliamentary layout and each nation has an equal balance of representatives to population (for example the Commonwealth's balance is 21 representatives to 6.5 million people).
AC Court of Justice
The AC Court of Justice is the judicial system of the AC. Modeled after the Kofuken judicial system, it receives cases that nations have deemed important enough to warrant oversight by an international court. The COJ is located south of Sentrumalyamess, City of Nymaria, (GTK)
AC Central Bank
The AC Central Bank is one of the most fragile but important institutions of the union. It's in charge of many things but the most important ones are to manage the Antari currency (main currency of the union) and to ensure a stable economy in all of the union's countries and the Coalition's economy itself.
Headquarters: Like the ACUHS, the AC Central Bank Headquarters are located in Bako-Huz, capital city of Kofuku.
The main administrator of the "AC Bank General Secretary" is Hamaja Kantarej, born in Aragansa in the Grisean-Thirranic Commonwealth. Although the headquarters are in Bako-Huz, the central bank has outposts in all other capital cities of the AC members.
AC External Relations Service
AC Universal Education System
Humanitarian, Health and Welfare Organisation
This organisation focuses on the provision of well-being to all citizens of the coalition as well as ensuring human rights, humanitarian aid during times of crisis and social welfare. Its offices administrate cross-national issues involving any provision to human health whether social or physical and works in unison with the ACUHS.
Hosted in Sante Agustin, Layr; its main office finds itself in the historical district with the Holmic name: Ggulmanitò, Sakà, k'Atyèggul Organisabeggon and is adjoining to the Layri Antarephian Coalition offices.
AC Road Regulations Service
Toll Roads (Payment Roads) Regulations
Each country decides where to place a toll road, but the price must be inside a requirement. The basic requirement is that the toll road must charge the costumer approximately the same amount or less than $0.05 per each kilometre saved + 0.05 per each minute saved. For example, if a route is 200km and 2h long without toll and 100km and 1h long with toll, it would be km (0.05 x 100) + min (0.05 x 60) = Total 5+3 = $7.
License Plates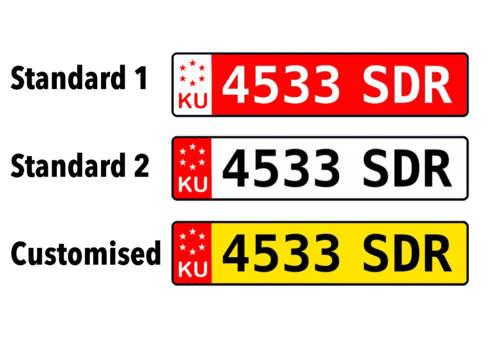 Here we can see the 3 types of License Plates used by the countries of the AC. The picture shows an example for the country Kofuku, that's why the the letters KU appear there.
The type 1 is used mostly on Harda Major (the biggest island of the Harda Archipelago).
The type number 2 is the most used outside Harda Major. This one is the most normal one because it has a white background colour.
The type 3 is not very common used. Because it's reserved for public service vehicles (Ambulances, police cars, buses, garbage trucks…. The AC Road Standard Regulations Service is the one in charge of giving this customized plate to specific institutions of all countries.
Standard Highway Requirements
The standard highway requirements of the AC follow the models laid out by the Grisean-Thirranic Commonwealth and Kofuku. These entail the following elements:
No set speed limits if possible.
A minimum of two lanes per highway.
Traffic Signs