User:BMSOUZA
Jump to navigation
Jump to search
Hi!
Hi, I am BMSOUZA.
In real world, my name is Bruno. I am from Rio de Janeiro (born in the capital city in 1985, but living in northeastern inner state since 1995), Brasil.
My Territories
Currently, my territories as private projects are:
Joining Collaborative Projects
Currently, my territories in collaborative projects are:
Some Concepts
Aħmara is an historic fortress town in a coastal rocky cliffs area. Initially, it would be 15k inhabitants, but got 30k, and as I am still editing, I think a reallistic number now is (maximum) 80k hehehe - at least, the city has no place to keep spreading its streets anymore hehehe.
Its name means "red", as KAB suggestion, hehehe.
There is Aħmara FC, a traditional football team playing in the (semi-pro) first level of the national league. There is also Oasis Aħmara, a basketball team in the city - this one would be a successful club in the national league.
Sandboxes
Current Activities I am proud of
Mapping
Notes
Collefermo town (Teramo e Sandi, Nascilia region), in Plevia

Currently I am editing and detailing a touristic small town in Plevia;
Inspirations? Cinque-Terre, maybe, hehehe;
Soon, also will edit Casaltaro city, Sandi metro area, and maybe all the province, but not all the region;
Trying to detail as much as possible - it will be my micro-mapping-masterpiece, hehehe!
Temporary Topic: Terano e Sandi province (Nascilia-NS region, Plevia)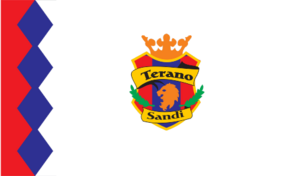 Terano e Sandi is, with Chiaramonte and Condona, one of the three provinces in Nascilia Region, southeastern Plevia.
Nascilia-NS is a plevian region, but previously, during some historical period, was under navennese control. Today, still there is navennese influence in the area, like its language being largely spoken in southern Nascilia. In Terano e Sandi, navennese also is spoken, more in southern areas (around Terano), than northern ones (around Sandi) - these, closer to Chiaramonte and Osmanopoli.
The province is famous because its touristic beaches, but also is nationally important because its vineyards and wheat fields.
The province is divided in 5 comunes (comuni), and also 28 cities/towns (città)
There are important ports in Sandi Marina and in Terano. Also, there are ferries from Casaltaro to Isola d'Uzzama, and from Torre Mirana to Isola Nabiana.
(TBD)
Mapped Places
Comuna di Casaltaro
Casaltaro is a city and seat of comune, with 7.899 inhabitants. TBD
Collefermo, including Bassano and Edera, is a small town in Casaltaro comune, with 2.633 inhabitants. Basically, it is a popular touristic destination for the rich and famous. A beach between rocky cliffs, and a commercial pedestrian street are the main points of interest in the locality. The navennese language is spoken only by the older people here.
(BMSOUZA's Note) As said, my intention is to create here my masterpiece of micro-mapping, hehehe. I consider the main core of the town is 99% mapped and detailed - always will appear something to do yet - but I still need to create the buildings in the residencial areas. Maybe, currently the town project is 90% finished.
Fiderba
Nantomi, including Pacillari TBD
Cusorate, including Stivaio and Marottaro TBD
Fuzio Arobati, including Arobati TBD
Comuna di Sandi
Sandi is a city, seat of comune, and most populous city in the province, with 180.872 inhabitants, even not been its capital. TBD
Civitanova Nasciliese
Ombronio
Pozzo Bariano
Altate Camandola
Camandolo, including Scattani TBD
Sab Luigi s.Passigobbio
Calolziovibo
Comuna di Terano
Terano is a city, seat of comune and capital of the province, with 120.422 inhabitants. TBD
(BMSOUZA's Note) Here my intention is the largely use of the navennese (venetian) language
San Giuseppe Teranese
Vessalla
Augusta S.Tolomeo
Martina Jarta
Comuna di Torre Mirana
Torre Mirana
Gioia Maccise
Pintogine
Quantate
Centario
Isola Nabiana is an island close to Torre Mirana, and its main town is Santa Sofia, with 4.501 inhabitants (3.963 in the city and 538 among 9 localities around the island). There is a strong navennese presence in the island (TBD)
Comuna di Minerva Nasciliana
Minerva Nasciliana
Alvisiano
Sant'Ilaria Nasciliana
Castelforte con Tossio
Highways
| Level | Ref | Name | Beginning | End | Length (km) |
| --- | --- | --- | --- | --- | --- |
| National |  A5  | Autostrada Orientale | | | km |
| Region |  SS 23-1  | Superstrada Chiaramonte - Sandi | | Sandi Nord | km |
| Region |  SS 23-1B  | Tangenziales di Sandi | Sandi Nord | | km |
| Province |  SP 32-110  | Strada Provinciale 23-110 | | | km |
| Comune |  SC 32-1001  | Corso di Collefermo | Casaltaro | Sud Collefermo | 6,8km |
| | | | | | km |
Sports
List of sport grounds in Terano e Sandi province, and its places in national levels.
No. There will be not any racing course in the province, as I see one very well mapped in Laghesi, around 100/ 120km by car from Sandi, relatively close to.
| Sport | Team | Colours | Ground | Notes |
| --- | --- | --- | --- | --- |
| Football | US Sandina |  Navy   Gold  | (Sandi) | Lega B (national) |
| Football | SS Cittá di Terano |  Blue   Black  | Stadio Gianno Arelli (Terano) | Lega C (national) |
| Football | AS Casaltarese |  Blue   Red  | Stadio Comunale (Casaltaro) | Lega D (national) |
| Football | Collefermo Calcio |  Black   Green  | Attilio Marotti (Collefermo) | Lega E3 (province) |
| Football | Fiderba |  White   Green   Red  | (Fiderba) | Lega E3 (province) |
| Football | Virescit Cusorate |  Green   White  | (Cusorate) | Lega E3 (province) |
| Rugby | Audax Sandi | | (Sandi) | Serie A (national) |
| Rugby | Navenna Pleviana |  Black   Green   Red  | Stadio 4 Giugno (Terano) | Serie B (national) |
| Basketball | Svelto Sandi | | (Sandi) | Serie B (national) |
| Volleyball | Magnus Terano |  Navy   Gold  | PalaMagnus (Terano) | Serie A (national) |
| | ' | | | |
| | ' | | | |
Temporary Topic: Airlines Table
Airlines companies
List of airlines routes