Collab:Federal States/Collaborative States/New Carnaby
Jump to navigation
Jump to search
| | | |
| --- | --- | --- |
| | | This page is open to discuss collaboration aspects for New Carnaby |
Discussions
Please discuss not on this main side, but on the discussion side to this side. To start a new theme, please click on the "+"-button. Please always underwrite with a signature. Therefore you type 2-times the "-" and 4-times the "~" (as usual in Wikipedia).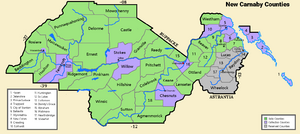 Mapping offer October 2020
For users with advanced skills, New Carnaby offers again several counties for detailed mapping
.
There are offered different styles of areas, from parts of Stanton Metropolis to rural counties with only small villages. Main rivers, motorways, primary routes and railways as backbone-structure of the state of New Carnaby are given. Wished changings can be discussed.
Stanton Metropolis
County of Bruchlinie
County of Weybirton
County of Meadows
Counties including a greater town
Ashhills with the town of Yallop
Star with the university town of Creedle
Barley with the town of Three Rivers
Brinkson with the town of Chestnuts
Counties in the reach of a city with partly denser urbanisation
Aldergate - sleeping towns for Stanton (now Fluff-Nuttr)
Beaver - outer end of Stanton metropole region
Prangle - near the capital of New Carnaby
Lincoln - near the capital of New Carnaby
more rurual counties, mountains
Six Lakes and Blorland
Black Duck
Mallory
Silverwood
Mohowenny
more rurual counties, hilly land
Pike River
Walkyre
Nenecowahukook
Black Swan Lake
Hope
New Kalm (with some german ("kalmish") placenames)
more rurual, most flat land
Prairie (in the west)
Pacuhanco (on the east)
If you are interested, please write via INBOX to histor or Easky30
Basics of Cooperation
Please do not think, we are bureaucratic. But in the past we had seen, that some clear rules makes life easyer.
Motorways: Are given not only for New Carnaby, but regulated nationwide for the FSA. No new motorways! If you need a new motorway-exit, it is your job to correct the other exit-numbers. But sure you can smooth curves or draw some rest-areas and fuel-stations.
Trunk-roads: Are given and numbered as state-road 1 to 9 and with numbers > 100. Please discuss, if you will change some parts of state roads into a trunk road.
State Roads: Are given. They have only a number from 10 to 99 (please do not chance to NC-xx). You may move this ways, if necessary, special in towns or villages. But the general direction should be unchanged. In New Carnaby state roads are always tagged as "primary". If you think we need a new state-road or want to prolongate one, please discuss before drawing.
Secondary and other roads: Please give no number. The map will be overcrowded with this numbers.
Railways: The railway-net is given. But sure you can smooth curves or draw some rurual stops for new villages or small towns.
Boundaries: It is not necessary to start your work with drawing boundaries inside a county (with admin-level = 8). This has very low priority. If there may be reasons, to change county boundaries in detail, please discuss before. Do not create new counties.
Cities: here in New Carnaby this are towns > 100 000 inhabitants. There shall be only few, so please discuss before draw a new.
Towns: Please remember, that towns normally had some distance one from the other. Avoid cluster of them, special in rurual areas.
Please do not set only a grey area (as tag "landuse = residential") and then think, this is your town or vilage. Such rough marker are not state of the art.
Names: What has no name, can get a name. All items like towns, villages, rivers, lakes and streets inside of towns or village should have a name. What has a "wrong" name now, can be discussed. But many name are mentioned on the wiki-pages or the graphics on the wiki (p.e. railway-stations)of New Carnaby: this names are to discuss before and the wiki is to change. Normally names are in english, but few french ("better") names you can give, some german names in and around New Kalm County and some "indigen". Names in other languages could be only solitairs.
List of county-mappers
Error while fetching data from URL https://osm3s.opengeofiction.net/api/interpreter?data=(area[name="New%20Carnaby"];%20)->.a;%20rel["admin_level"="6"][name](area.a);(._;>;);out;: $2.
Error fetching URL: Could not resolve host: osm3s.opengeofiction.net
There was a problem during the HTTP request: 0 Error
Could not get URL https://osm3s.opengeofiction.net/api/interpreter?data=(area[name="New%20Carnaby"];%20)->.a;%20rel["admin_level"="6"][name](area.a);(._;>;);out; after 3 tries.
| Link | Name | Type | Reference | Relation ID | Owner |
| --- | --- | --- | --- | --- | --- |
Cradleway and South Islands
Basic guidelines
The northern part of the state will be a Long Island-like suburban area for commuters to Stanton/Warwick. The southern islands will be resorts, tourists, and fishing.
Route numbering system
Primary roads: DI-1 through DI-19 Secondary roads: DI-21 through DI-99 (we will almost certainly not get this high) Tertiary roads: DI-100+
There will be gaps and that is fine.
State Route List
Please record the route number, the endpoints, and the general direction (i.e., N-S or E-W)
Primary
DI-1 - N. Delenshire Expy, PQ to St.R (N-S)
DI-2 - Jennifer C. Archibal Expy., PQ to St.R (N-S)
DI-3 - PQ to St.R (N-S)
DI-4 - Tackleyshire to PQ (E-W)
DI-5 - Port Kestrel to Delenham to PQ border (E-W)
DI-6 - Holly Brook to East Stanbridge (N-S)
DI-7 - Stanbridge to Paxham (E-W)
DI-7A - Stanbridge Loop Road (E-W)
DI-8 - East Parkiston to North Avon (N-S)
DI-9 - Fleetwood to Cormorant (N-S)
DI-10 - The Coast Road, PQ to ? (N-S)
DI-10A - Old Trappard to PQ (N-S)
DI-13 - Westwater to East Ratherfly (N-S)
DI-13A -Parkiston Loop Road (E-W)
DI-16 - Holly Brook to Frellowind (E-W) (Note: Is both primary and secondary)
DI-17 - Frellowind to Holly Brook (N-S)
DI-17N - Bayview to PQ (N-S)
DI-18 - Montresee Bay to Ratherfly (N-S)
DI-19 - Old Trappard to Hessendale to PQ (E-W)
DI-20 - FS-20 to Holly Brook (N-S)
DI-22 - Chalstonshire to Hewesport (E-W)
DI-23 - South Holly Brook to North Frellowind (N-S)
DI-24 - Stanbridge to South Holly Brook (N-S)
DI-29 - Westwater to Stanbridge (E-W)
DI-33 - Parkiston to DI-18 (E-W)
DI-59 - Holly Brook to Blackrock Point (E-W)
DI-70 - Holly Brook to DI-8 (E-W)
DI-122 - North Stanbridge to York Point (N-S)
Secondary
DI-30 - ?? to PQ (E-W)
DI-87 - coast to PQ via Hessendale (N-S)
Tertiary
Mapping areas
Bootmii: northern suburbs Yoyo and Lithium: southern islands Whateversusan: Capital area CartographerKing: detailing