Weekly site maintenance is scheduled Thursday 04:00–06:00 UTC.
Editing will not be possible during this time, and there may be other brief disruptions. (additional info)
Collab:Piscipula
Jump to navigation
Jump to search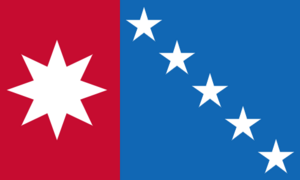 Piscipula is an independent nation that formerly was part of the Federal States but was granted its independence in 1938. The nation shares land borders with Mecyna, AR029, and the FSA state of Alormen, but is mostly surrounded by the Gulf of Alormen. The state is divided into fifteen counties that encompass a variety of potential mapping styles.
Geography and Influences
Piscipula is located between Mecyna, Cambria, and the Federal States of Archanta, with a tropical in climate. A range of low mountains sprawling from the FSA border to the eastern coast separates the nation from Mecyna and Cambria but gives way to low, sandy plains to the southern shores. At the eastern end, an island chain extends into the Gulf of Alormen.
Real-world influences in the southwestern portion of the country include coastal, non-urban parts of southern California (e.g., San Diego County), while the flatter, sandier northeastern portions of the country are more directly inspired by southern Florida, including the Everglades and the Florida Keys.
History and Culture
While much of Piscipula's mainland is sandy scrub, Hemming Key has been a strategic seaport since the colonial era, situated at the mouth of the Gulf of Alormen. The area historically was sparsely settled, although there is some evidence of previous settlements by Native Archantans. The Federal States occupied what is now Piscipula as early as the 1850s, although the FSA did not commit to any major settlement except at Hemming Key. The FSA greatly increased its presence in Piscipula following the opening of the Mecyna Canal and extensions of railways north of San Pascual. Piscipula was in line for FSA statehood until a major hurricane struck the territory in 1935; rather than rebuilding the territory, the FSA instead opted to only fortify its military installations, prompting widespread outcry from local residents and the international community. Piscipula residents were granted independence from the FSA in 1938; in exchange for allowing for FSA military bases to continue to operate, the Federal States oversees the defense of the territory. Since independence, the nation has grown wealthy with a reputation as an FSA tax shelter. The pleasant weather year-round, including moderating sea breezes during the hottest parts of the summer and winter temperatures that rarely drop below 10°C, have more recently made the Piscipula Keys a tourism destination, although development on the islands is strictly capped due to storm evacuation requirements.
Commerce and Industry
Piscipula is a modern country, with an HDI just below Mecyna and the Federal States. The nation, while independent, is a military protectorate of the Federal States; the FSA has military installations along the Piscipula Keys to help protect the Gulf of Alormen and to protect shipping interests on the east end of the Mecyna Canal. The capital of Piscipula, Delonix, is a modern metropolis along the northeastern shore and serves as the nation's primary port. Other major cities include Caroline City on the southern shore and Hemming Key at the tip of the Piscipula Keys. Primary industries are fishing, agriculture, and financial services, although tourism has become a major part of the nation's economy in the last half-century.
Transportation
Aviation
It is expected that the two primary international airports will be located in Delonix and Caroline City, with the former larger than the latter. Hemming Key will also have an international airport, but it will by necessity be small in size (one runway, < 10 gates). Seaplanes will be a minor part of the overall transportation infrastructure of the Keys.
Highways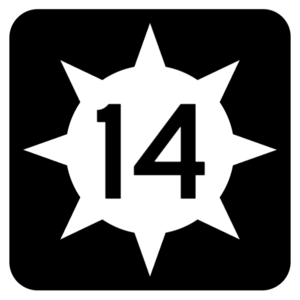 Most highways in Piscipula will be primary roads; however, at least three major motorways are planned. Major highways have single-digits and link the counties with Piscipula's neighboring nations. Currently, three are planned:
Route 1 begins at the Alormen/Piscipula border and runs along the southwestern coast to Caroline City, then along the glades to Delonix.
Route 2 begins in Caroline City and runs north-northwest into interior Mecyna, linking up to Mecyna National Highway 2.
Route 3 officially begins in Hemming Key and runs along the northeastern coast to Mecyna via Delonix; however, much of Route 3 in the Keys is technically part of the Piscipula Marine Highway (see below).
Routes 4 and 5 are reserved and will connect Piscipula with Cambria; more formal plans will follow when the latter nation creates its road network.
Routes 6-9 will be assigned as the nation develops and as logical corridors emerge.
Regional routes have two-digit numbers; these generally increase from west to east. Route 10 will be located near the Alormen/Cambria boundaries; Route 99 will link Hemming Key to nearby Keys. While the routes can run in any direction, it is anticipated that most of these "secondary" routes will generally run north-south, connecting interior parts of the nation to the coast.
"Auxiliary" routes are three digits and mostly handle local traffic, similar to county highways in the United States. The first digit of these routes is based on location; these routes are expected to slot into the secondary highway numbering system (so Route 502 would be located between Routes 50 and 51).
1xx: County 01
2xx: County 02
3xx: County 03
4xx: County 04, County 05, County 07
5xx: County 06, County 08
6xx: County 09
7xx: County 10, County 11
8xx: County 12, County 13 (except Keys)
9xx: County 13 (Keys only), County 14, County 15
Piscipula also has a motorway system; motorways are referred to as expressways and parallel Routes 1, 2, and 3. These routes are referred to as Route 1X, Route 2X, and Route 3X, respectively.
Ferries
While several of the Piscipula Keys are connected to each other and the mainland by bridges, there is no Overseas Highway equivalent linking Hemming Key all the way to the mainland. Instead, the Piscipula Marine Highway, a series of ferry routes, connect the Keys for vehicular traffic. The Marine Highway is technically part of Route 3.
Railways
Instead of a highway, the Keys are all connected via a railway trestle that stretches from Hemming Key to the mainland and on to Delonix. A longer, connected railway connects Delonix to Alormen via Caroline City.
Political Subdivisions
Piscipula is a parliamentary republic. Second-level jurisdictions are referred to as counties. Counties oversee some functions of local government (namely law enforcement, lower-level courts, and school districts), but most government services are provided either from the national government or from municipal governments.
Experienced mappers are encouraged to request a county to map. Advanced mappers are encouraged to request oversight of one of the collaborative counties; once coordinators are found for collaborative counties, mappers of all skill levels will be encouraged to participate.
Piscipula Counties

| Name | ref | Status | Contact | Notes |
| --- | --- | --- | --- | --- |
| County 01 | AR027-01∈⊾ | Available | | Mapping should be mostly natural and sparsely settled, except along the coast. |
| County 02 | AR027-02∈⊾ | Available | | Mapping should be mostly natural and sparsely settled, except along the coast. |
| County 03 | AR027-03∈⊾ | Available | | Existing river system can be maintained; could be a good county for agricultural mapping. |
| County 04 | AR027-04∈⊾ | Claimed | PaintedBlue | Second-largest city in the nation. Existing urban mapping can be repurposed or removed entirely. |
| County 05 | AR027-05∈⊾ | Available | | While county will likely include some spillover suburban sprawl from County 04, inland areas ideal for large-scale agricultural mapping. |
| County 06 | AR027-06∈⊾ | Collaborative | coordinator wanted | Overwhelmingly comprised of natural wetlands. Mostly will be protected national park land. |
| County 07 | AR027-07∈⊾ | Available | | Can host a mid-sized city along Route 2 between Mecyna and County 04 and some smaller satellite communities along the highway. Otherwise mostly natural/agricultural. |
| County 08 | AR027-08∈⊾ | Available | | Mostly rural and agricultural. May have a few smaller cities along Route 1/railway depending on final alignments in County 06 or County 08. |
| County 09 | AR027-09∈⊾ | Available | | "Gold Coast" area along the coast with wealthy suburbs between Mecyna and Delonix. Inland areas get sparser (and poorer) quickly. Possible inspirations include Boca Raton and Palm Beach. |
| County 10 | AR027-10∈⊾ | Collaborative | coordinator wanted | Includes Delonix, a modern Miami-style metropolis with international flavor and major ports. |
| County 11 | AR027-11∈⊾ | Available | | Delonix suburbs along the coast; reclaimed land inland for agriculture quickly getting gobbled up by suburbanization. |
| County 12 | AR027-12∈⊾ | Available | | Delonix exurbs. |
| County 13 | AR027-13∈⊾ | Claimed | Fluffr_Nuttr | Small industrial hub; northern terminal of the Marine Highway and home to FSA military facilities, as well as Upper Keys. |
| Caldwell County | AR027-14∈⊾ | Collaborative | TheMayor | The Middle Keys and Lower Keys are connected to the mainland via the Overseas Railroad and the Marine Highway. The islands themselves are small and somewhat sparsely settled, but will have development (especially fishing and tourist-oriented). A to-be-determined FSA military installation will also be included. |
Delonix
Delonix (County 10) is the capital of Piscipula and is the largest city in the nation. Per Aiki, who designed the framework of the city:
The overall area is a flat coastal plain with hills ~10mi inland. Long beaches to the west. The harbor is sheltered by a ensemble of sand island, keys or a mix of both linked together by a causeway in the late 19th Century enhanced with successive landfills on which part of the seaport sits. The outermost headland is guarded by a historic 1850s Federal States fort. Highway 1 runs along the coast.
The old seaport is located at the west bottom of the bay where the old "colonial" city was built. Sometime in the first half of the 20th Century, a planned neighborhood was added to the south with a large park & a university (maybe in line with larger territorial autonomy). A modern business district has developed east of the old center with various high rise buildings.
The old center grid is based on Melbourne, Australia: 1mi x 1mi, one main street every 10 chains (660ft) with one lane in the middle. The 2 dual carriageways (prob with trees in the middle) are 160ft apart. Few hist. buildings left (only those in brick or stone) after the 1935 hurricane + urban renewal of the 1950s-70s.
The Parliament is aligned with the large central park and surrounded by national administration buildings (the band west of the park). It can be based on one of the Provincial capitols of the Philippines - same period, vague same story and lesser known that the U.S. ones.
The national (former territorial) university is located southwest of the park next to a large roundabout on which sits the National Carillon (bell tower) of built for the silver jubilee of independence in 1963.
The large avenue south of the park was the roughly urban area limit until the 1950s or early 1960s. The primary highway ways are 165ft apart.
Caldwell County Keys
Caldwell County, which is compromised of the Middle and Lower Keys, is a unique collaborative project. The county includes 29 separate keys, each of which are available for individual mappers to showcase island mapping. While all the keys are accessible by boat (and are thus all inhabitable), any substantial development (more than a few residences) requires that the key be watered (have potable water piped in from the mainland) and be connected either to the Marine Highway or the Overseas Railroad. Keys without access to the Marine Highway are not permitted to have any auto traffic and are accessible by small boats or pedestrian ferries only.
Short bridges (1000 ft/300m or less) are permitted and are assumed to also include water mains, which "waters" the key for additional development. No roads higher than "primary" classification are permitted; keys that do not have direct Overseas Railroad access should not have roads higher than tertiary classification. Outside of Hemming Key, commercial airports are not permitted; however, general aviation and seaplane airports are permitted on keys larger than 1 square mile (2.6 square kilometers).
As a former FSA territory, the keys use imperial (feet/miles) measurements. The Overseas Railroad has milestones mapped at each bridge footing, for reference. The Overseas Railroad should not be changed, except to add detail (which includes making curves smoother and adding sidings/passing tracks). All rail bridges should be single-tracked. The Overseas Railroad is an active rail line that carries both passenger and freight traffic, although most passenger traffic has since been supplanted by cars and the Marine Highway. Keys listed below with a "Yes" in the Marine Highway column should include a ferry port that accepts Marine Highway ferries and thus road traffic. Keys listed with "indirect" access will not have a Marine Highway port themselves, but are expected to have a bridge to a key with a Marine Highway port and thus can handle road traffic.
For appropriate scale, density, natural space, etc., mappers are welcome to take inspiration from the Florida Keys. Note that, like the Middle and Lower Florida Keys, the seas around the Piscipula Keys are generally quite shallow. Causeways, dredging, etc. are common, but deep-sea ports are not available outside of Hemming Key. Mappers are encouraged to map shallow-water features such as mangroves, channels, navigation aids, etc. in near offshore waters.
All coastlines are part of the continental Archanta relation. Use extreme care when modifying coastlines and land area relations. Keys can be modestly enlarged and modified (provided the Overseas Railroad is not affected) but total land area of each island should not exceed 110% of the original area listed below.
Piscipula Keys
Name
ref
Area (imperial)
Area (metric)
Mapper
Potable Water
Marine Highway
Overseas Railroad
Notes
Hemming Key
AR027-14-01∈⊾
5.22 sq mi
13.53 sq km
TheMayor
Yes
Yes
Yes
County seat and largest city of Caldwell County. Includes a commercial airport and an FSA naval facility.
Key 14-02
AR027-14-02∈⊾
0.72 sq mi
1.86 sq km
TheMayor
Yes
Indirect (via Hemming Key)
No
Key 14-03
AR027-14-03∈⊾
0.28 sq mi
0.73 sq km
TheMayor
No
No
No
Key 14-04
AR027-14-04∈⊾
1.71 sq mi
4.42 sq km
Available
Yes
Yes
Yes
Key 14-05
AR027-14-05∈⊾
1.28 sq mi
3.32 sq km
Available
Yes
Yes (via 14-04)
No
Key 14-06
AR027-14-06∈⊾
0.17 sq mi
0.43 sq km
Available
No
No
No
Key 14-07
AR027-14-07∈⊾
7.75 sq mi
20.07 sq km
Reserved
Yes
Yes
Yes
Largest (in area, not population) of the Lower Keys. Includes a modern FSA naval facility; key is reserved pending final confirmation of the FSA Military Committee.
Key 14-08
AR027-14-08∈⊾
0.38 sq mi
0.99 sq km
Available
No
No
No
Key 14-09
AR027-14-09∈⊾
1.74 sq mi
4.51 sq km
Reserved
Yes
Indirect (via 14-07)
No
Reserved pending status of 14-07.
Key 14-10
AR027-14-10∈⊾
0.04 sq mi
0.10 sq km
Available
No
No
No
Key 14-11
AR027-14-11∈⊾
0.34 sq mi
0.88 sq km
Available
Yes
Indirect (via 14-12)
Yes
Key 14-12
AR027-14-12∈⊾
1.41 sq mi
3.65 sq km
Available
Yes
Yes
Yes
Key 14-13
AR027-14-13∈⊾
0.11 sq mi
0.30 sq km
Available
No
No
No
Key 14-14
AR027-14-14∈⊾
0.14 sq mi
0.37 sq km
Available
No
No
No
Key 14-15
AR027-14-15∈⊾
0.06 sq mi
0.15 sq km
Available
Yes
Indirect (via 14-12 and/or 14-17)
Yes
Key 14-16
AR027-14-16∈⊾
0.49 sq mi
1.27 sq km
Available
Yes
Indirect (via 14-17)
No
Key 14-17
AR027-14-17∈⊾
6.52 sq mi
16.88 sq km
BMSOUZA
Yes
Yes
Yes
Key can accommodate a modest urban area with key amenities (high school, hospital, etc.) for the Middle Keys.
Key 14-18
AR027-14-18∈⊾
0.58 sq mi
1.51 sq km
Available
Yes
Indirect (via 14-17)
No
Key 14-19
AR027-14-19∈⊾
0.07 sq mi
0.18 sq km
Available
Yes
Indirect (via 14-20)
Yes
Key 14-20
AR027-14-20∈⊾
1.47 sq mi
3.81 sq km
Available
Yes
Yes
Yes
Key 14-21
AR027-14-21∈⊾
0.29 sq mi
0.75 sq km
Available
No
No
No
Key 14-22
AR027-14-22∈⊾
0.73 sq mi
1.88 sq km
Available
Yes
Indirect (via 14-20)
No
Key 14-23
AR027-14-23∈⊾
2.31 sq mi
5.99 sq km
Available
Yes
Yes
Yes
Key 14-24
AR027-14-24∈⊾
0.12 sq mi
0.31 sq km
Available
No
No
No
Key 14-25
AR027-14-25∈⊾
0.61 sq mi
1.59 sq km
Available
Yes
Indirect (via 14-23)
Yes
Key 14-26
AR027-14-26∈⊾
0.21 sq mi
0.55 sq km
Available
Yes
Indirect (via 14-24 and 14-25)
Yes
Key 14-27
AR027-14-27∈⊾
0.03 sq mi
0.08 sq km
Available
No
No
No
Smallest key.
Key 14-28
AR027-14-28∈⊾
0.14 sq mi
0.36 sq mi
Available
No
No
No
Key 14-29
AR027-14-29∈⊾
0.25 sq mi
0.65 sq km
Available
Yes
Indirect (via 14-24 and 14-25 and 14-26)
Yes
Key 14-30
AR027-14-30∈⊾
5.77 sq mi
14.94 sq km
Available
Yes
Yes
Yes
Key 14-31
AR027-14-31∈⊾
0.31 sq km
0.81 sq km
Available
No
No
No
Key 14-32
AR027-14-32∈⊾
0.10 sq mi
0.25 sq km
Available
No
No
No
Hemming Key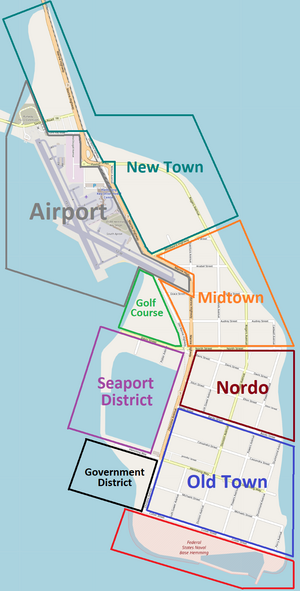 Hemming Key, at the southern tip of the Piscipula Keys, is a modestly-sized city that historically served as an important port for maritime traffic in and out of the Gulf of Alormen. The city itself is strongly inspired by the real-world City of Key West at the southern tip of Florida.
The City itself is organized into a collaborative structure, with much of the city divided into 50 "blocks" of up to 40 acres (about 16 hectares) each. A standard block is exactly 40 acres, a regular square with 1/4-mile (about 400m) sides. In an effort to simulate the historic effect of different landowners/developers owning and developing tracts of land throughout history, mappers may request one or two blocks to design and map themselves. While mappers are encouraged to use a "grid"-style street plan to maximize density on the island -- especially in older areas -- each block's "developer" will have some flexibility in how they map their block. Micromapping is highly encouraged on Hemming Key.
Hemming Key is divided into nine neighborhoods. Currently, mappers are able to request blocks in three of these neighborhoods: Old Town, Nordo, and Midtown. (In the future, New Town, the Seaport District, and some of the Government District will also be available for mapping.) Each neighborhood has a different contextual theme that should be followed, but there are also general rules for all development on the island:
Major roads (tertiary and above) shall not be altered. These streets also have a fixed width of 66 feet (20m), including sidewalks.
New major roads (tertiary and above) are not permitted without approval from the project coordinator.
Maximum building height is 5 stories (55 feet/17m) along Hemming Way and 3 stories (33 feet/10m) everywhere else.
The primary land use on each block should be residential, although light commercial activity (small offices, bars/restaurants, corner stores, etc.) is also permitted along busier streets. Industrial uses are generally not permitted.
Civic institutions (police/fire stations, schools, post offices, parks, etc.) should be approved by the project coordinator before being mapped. Private institutions (churches, social clubs, etc.) are permitted and do not need to be pre-approved.
No new fixed-route transit (trams, metro, etc.) are permitted. However, the island does have a network of buses.
Do not alter the coastline, except to add additional detail.
A brief description of each neighborhood follows.
Neighborhoods
Active FSA naval base at the tip of the island. Most FSA military personnel live on the base itself, but will head into Old Town for shopping and recreation. Note that Piscipula is independent of the FSA, so access between the base and the rest of the city is limited, especially for civilians.
The naval base is anticipated to be a future separate collaborative project with FSA participation.
Old Town
Old Town is the historic center of Hemming Key, with the island's major commercial core along Hemming Way. While Old Town is historically residential, strong tourism demand has led to numerous hotels and resorts throughout the neighborhood, with a mix of historic homes, quaint shops and restaurants along Hemming Way, and newer hospitality uses.
Mappers are welcome to request blocks in Old Town. See directory below.
Four blocks include beachfront along the eastern shore of the island. These blocks are ideal for resort-style development, although public beaches are also required, at least where the major tertiary streets reach the water's edge.
A modest central park will also be included in a to-be-determined location of Old Town.
Government District
As a historic port, the Government District historically housed important civic institutions, such as the court house, post office, customs office, public market, and more. The Government District also has a small cruise ship port of call, although cruises do not originate from the island.
Seaport District
A semi-natural harbor, the Seaport District still sees active industrial uses, mostly fisheries and canneries. The seaport also includes docking facilities for pleasure craft, tourist excursions and rentals, houseboats, long-distance ferries, and more. Historically, the Seaport District had more intense industrial uses; however, following the severing of the Overseas Railroad with the construction of Runway 12/30, many of the larger-scale industrial uses have since been repurposed or reconstructed as modern resorts and higher-density residential housing.
Nordo
Nordo, located between North and Bardo streets, is similar in age and history to Old Town, but is far less commercialized in terms of tourism. The neighborhood is a bit quieter and is home to more long-time residents than tourists. Primary land use should be single-family housing, although neighborhood-level commercial is also appropriate.
Mappers are welcome to request blocks in Nordo. See directory below.
Three blocks include beachfront along the eastern shore of the island. These blocks are ideal for resort-style development (especially high-end resorts that would benefit from the relative seclusion of a quieter residential neighborhood). Public beaches are recommended but not required.
Block 27 is the designated "school block" and will include the island's "old" school. (The more modern high school is in New Town.)
Midtown
Midtown was the island's first residential addition, dating back to the early-/mid-20th Century. Building lots and street grids are expected to be slightly more suburban-oriented (wider streets, more variations in the street grid, etc.), but the location of the approach to Runway 12/30 makes the neighborhood more noisy and more lower-/middle-class than Nordo.
Mappers are welcome to request blocks in Midtown. See directory below.
Blocks 39 and 40 include waterfront development opportunities, but they are directly under the approach for aircraft and may not be attractive for higher-end resorts or residences.
Development is not permitted east of Rogers Avenue between Grace Avenue and Windward Highway.
Golf Course
Due to soil contamination issues as well as noise impacts from the airport, the former Overseas Railroad rail yard north of the Seaport District has been reclaimed and repurposed as a golf course.
New Town
New Town is Hemming Key's more suburban-oriented area, largely built on reclaimed land and with development driven by the expansion of Hemming Key International Airport. Cheaper chain hotels are common near the airport, with strip malls and big box commercial development prevalent elsewhere in the neighborhood to serve the residents of Hemming Key. New Town also includes the modern high school, and potential commercial or industrial uses north of Sand Key Road.
New Town will open to mappers at a future stage of the project. Specifics will be announced at a later date.
Airport
The immediate footprint of Hemming Key International Airport, as well as auxiliary industrial land uses. The airport also includes the Hemming Key Intermodal Terminal, the modern terminal of the Overseas Railroad connecting Hemming Key to the rest of the Piscipula Keys and the mainland. The intermodal terminal also serves as the island's primary hub for local and inter-key bus routes.
Block Directory
To request a block, contact TheMayor.
Get Involved
Requests to join the Piscipula project should be directed to TheMayor. In addition to county requests, we are currently seeking collaborative county coordinators as well as natural feature and infrastructure coordinators.